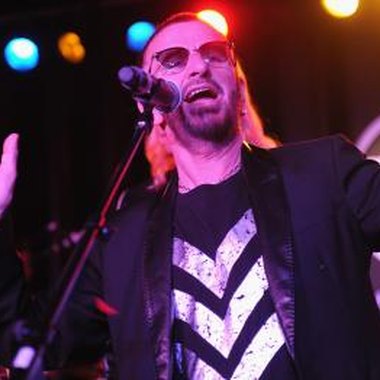 "With a Little Help From My Friends" is the second track of the Beatles' 1967 album, "Sgt. Pepper's Lonely Hearts Club Band." Ringo Starr provides the lead vocals, and though he did not write it, it is one of the songs most closely associated with him. While not a song with psychedelic Beatles lyrics like "I Am The Walrus," the song does have some distinct references, including some points of controversy.
"Billy Shears"
The song starts with a chorus of "Billy Shears." Billy Shears was a fictitious character that The Beatles invented for the "Sgt. Pepper" album. This was the first album that The Beatles recorded after they quit touring, and they had grown tired of being The Beatles. Thus, they adopted the persona of "Sgt. Pepper's Lonely Hearts Club Band." The name of "Billy Shears" is first mentioned in the opening track, "Sgt. Pepper's Lonely Hearts Club Band," as the singer in the band. Singing "Billy Shears" at the beginning of "With a Little Help From My Friends" introduces Starr as Billy Shears.
"Get High"
In the chorus, Starr sings, "I get high with a little help from my friends." This refers to getting high with drugs. By 1967 The Beatles were regular users of drugs, including marijuana and acid. This certainly had an effect on their music, as it became more psychedelic and experimental. In a 2004 interview reported by BBC news, Paul McCartney admitted drugs influenced much of the Beatles' music during the height of their success. As the line from the song implies, members of The Beatles did help each other get high by giving each other drugs.
Drug Use
According to Keith Badman's "The Beatles Diary," despite John Lennon's denial, some listeners, including United States Vice President Spiro Agnew, believed the song is a reference to drugs and that "friends" is a code word for drugs. Reading it that way, the lyrics imply that when things are difficult -- especially with struggles related to love -- drugs can pick you up and help you get by. This makes the song an endorsement for drug use as a cure for sorrows and pain.
Love
The lyrics can also be interpreted as a song about the difficulties of love and how friendships can support you and help you get by in life. Though Starr sings the lead vocals, other members of Beatles sing lines that are answered by him. This adds additional evidence that the lyrics are about friendship. Starr's lines reflect a person struggling to find and keep someone he loves, while the lines sung by the other band members, ask him his feelings and thoughts. They ask, "Do you need anybody?" and "Would you believe in a love at first sight?"
References
"The Beatles Diary"; Keith Badman; 1999
"The Beatles Anthology"; Brian Roylance, et al.; 2000
Resources
Photo Credits
Alberto E. Rodriguez/Getty Images Entertainment/Getty Images