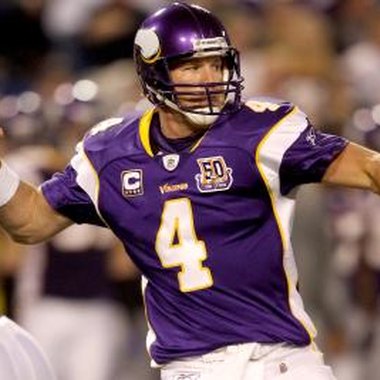 Brett Favre began his career as a quarterback in the NFL in 1991. He was drafted by the Atlanta Falcons but spent the majority of his career with the Green Bay Packers, playing with the team from 1992 to 2007. He played for the New York Jets in 2008, and with the Minnesota Vikings during the 2009 and 2010 seasons. He took the Packers to Super Bowls XXXI and XXXII, winning in 1996. He won the the NFL's Most Valuable Player award three consecutive times, beginning in 1995. Throughout his career, Favre has broken and held numerous records at his position.
Touchdown Passes
On September 30, 2007, Favre broke Dan Marino's record of 420 career touchdown passes. Favre's 421st touchdown pass came in a game that matched the Packers against his division rival and future team, the Minnesota Vikings. The recipient of the pass was wide receiver Greg Jennings. Entering the 2011 season, Favre holds the all-time record at 508.
Consecutive Starts
During the 2009 season, while playing for the Minnesota Vikings, Favre broke the all-time record for consecutive starts. Favre posted his 271st consecutive start, breaking the record previously held by another Viking, defensive end Jim Marshall, who played in the 1960s and '70s. Favre holds the record for most consecutive regular-season starts with 297; the number is 321 when the playoffs are included, also a record. Favre would lead the Vikings to the NFC championship game that year, losing to the New Orleans Saints.
Career Passing Yards
Favre holds the record for career passing yards, which Dan Marino previously held at 61,361. During 20 NFL seasons from 1991 to 2010, Favre accumulated 71,838 total yards. As of the end of the 2010 season, the closest active player was Peyton Manning of the Indianapolis Colts with 54,828 yards.
Interceptions and Fumbles
With longevity also comes records players would rather someone else holds. Favre has the record of most interceptions thrown with 336, as well as fumbles lost with 166.
Other Records
Brett Favre holds a variety of other career records. They include: most pass attempts at 10,169; completed passes at 6,300; sacks, 525; consecutive games at one position, 299; seasons with more than 3,000 yards passing, 18; and total offense, 70,195 yards. He holds the records for most games with one, two, three and four touchdown passes. He has thrown at least one touchdown in 244 games, two in 157 games, three in 71 games and four in 23 games.
Photo Credits
Matthew Stockman/Getty Images Sport/Getty Images