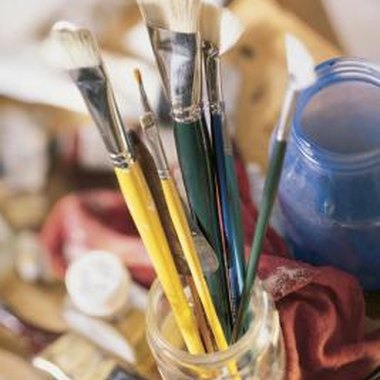 Ray Johnson was an American abstract artist and collage artist. He was born to Finnish immigrants in Detroit, Michigan, in 1927. He drowned after jumping from a bridge in Sag Harbor, New York, in 1995. He is best known for his creation of the Mail Art Movement, in which he and multiple participants would send each other small works of art to modify, keep or forward to others.
Ray Johnson's Art
Ray Johnson attended North Carolina's Black Mountain College for three years. This liberal, progressive institute focused on the arts and educational experimentation. It was there that Johnson became acquainted with Willem de Kooning, Robert Rauschenberg, John Cage and other prolific figures whose free forms of expression inspired the young artist. Johnson moved to New York in 1948. His first works were geometric abstract paintings. In the mid-1950s he began developing a one-of-a-kind collage technique that incorporated ink drawings, clippings from newspapers and portraits of famous movie actors.
Beginning the Mail Art Movement
Johnson began the Mail Art Movement when he would send small collages to friends and correspondents. He would often include instructions to add to the artwork, change it, keep it, forward it to another recipient or return it to the original sender. A mailing list was formed from this network of artists, called the New York School of Correspondence. Other people outside of the social circles of Johnson and his colleagues were soon participating in the movement.
The Popularity of Mail Art
Exhibitions showcasing the works of Mail Art participants were held in the 1960s and 1970s. The artists involved in the movement could hold exhibitions that doubled as public forums. Each artist could freely announce his own Mail Art event with a subject of his own choosing. However, it was stipulated that all of the received art had to be shown and that documentation for an event had to be sent to each participant. Although Johnson wrote an obituary in "The New York Times" for the New York School of Correspondence in 1973, universities and clubs continued to practice Mail Art activities for many years.
Significance of the Movement
Johnson's Mail Art Movement is a significant event in contemporary American art history. The movement began as a sort of parasite of the postal service, in that the art relied on the postal service to be transmitted to others. In turn, shipping standards dictated what mediums could be used to make the art. The Mail Art Movement also placed more importance on communication among artists than on artistic individuality, especially when the mailed art was modified and shipped to the next recipient. The movement also incorporated the social phenomenon of gift-giving. The exchanges of the artists involved were both similar and different from the rules of trade and barter that anthropologists find in most societies, but ultimately created a rich, collective artistic effort.
Photo Credits
Comstock/Comstock/Getty Images