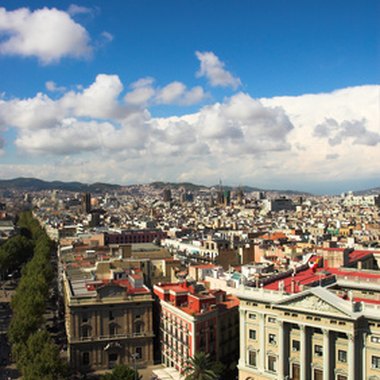 One of the most popular areas of Barcelona, Spain, for tourists to reserve a hotel room, Las Ramblas divides the El Raval and Barri Gotic districts and puts visitors close to many popular attractions. Tourist Guide Barcelona warns the streets of Las Ramblas are noisy until the early hours of the morning, and this noise can be heard within rooms that have soundproof walls.
what is a fallback
Hotel Montecarlo
Housed in a former 19th-century palace that was the headquarters of the Barcelona Royal Artistic Circle, the Hotel Montecarlo is in the heart of Las Ramblas. This hotel is a five-minute walk from the Placa Catalunya and the metro stop, and is near a wide selection of restaurants and shops. Also within walking distance is the Gothic Cathedral and the Passeig de Garcia. The Hotel Montecarlo offers standard rooms to suites that fit a maximum of two guests. The bed in each accommodation is electronically adjustable. While the rooms are small, the hotel offers amenities such as bathrobes and slippers, bathroom scales, an in-room safe, free Wi-Fi connection and on-site parking. The Hotel Montecarlo does not have its own restaurant, but it does have a dining room for breakfast.
Lleo Hotel
Located on Barcelona's busy Pelayo Street near the Plaza Catalunya and El Corte Ingles department store, the three-star Lleo Hotel boasts a traditional Spanish sandstone façade. Adorned with marble floors, statues, original oil painting and black leather furniture, the Lleo Hotel offers modernly decorated accommodations with hardwood floors that range from single to triple rooms with Jacuzzis. In-room amenities include Wi-Fi Internet connection, in-room safes and a guest "courtesy kit." In addition to the hotel's in-house restaurant that serves traditional Spanish food as well as international cuisine, the Lleo Hotel also has a game room with a billiards table in the wine cellar.
Royal Hotel
Despite its plain-looking, block-style building, the Royal Hotel is modern with a smart, industrial twist. Located near the popular Passeig de Gracia, the Royal Hotel features all-marble bathrooms and accommodations that range from standard rooms to family rooms or suites that have a view of Las Ramblas, some of which connect to each other. The in-room safes are large enough for a laptop and basic amenities. The Royal Hotel also offers its guests Wi-Fi and parking within the same facility, but these services are not free of charge. The hotel offers three different dining options in the form of a breakfast buffet, La Poma Restaurant, Coffee House and Pizzeria, and The Grill-Restaurant.
Olivia Plaza Hotel
Opening in 2006, the Olivia Plaza Hotel is one of Las Ramblas' newer hotels in the Plaza Catalunya that is a completely smoke-free accommodation. This hotel is a minute away from the Gothic Quarter and across the street from the airport's bus stop. The Olivia Plaza Hotel is a five-star accommodation with double and triple rooms and suites that are modernly and simply decorated with gray, red and white colors, and modern furnishing and fixtures. Amenities include electronic curtains, 24-hour room service and transportation to the airport. The Olivia Plaza Hotel also offers its guests car rental services, ticket sales and a library.
Photo Credits
ramblas in barcelona vertical, image by Denis Babenko from Fotolia.com