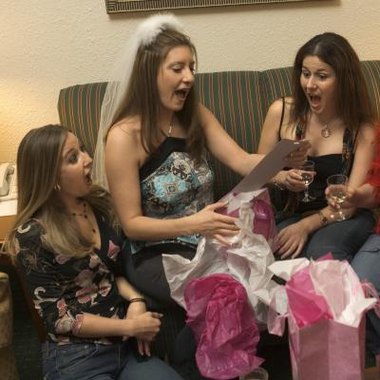 Weddings can be expensive. According to The Wedding Report, the average wedding in 2010 cost a couple $24,000. Even if both sets of parents are pitching in, that's still a big hit to everyone's wallet. Why not ask shower guests to help? A gift of a check or cash can help offset the couple's wedding costs, fund a honeymoon or help the couple save for a large purchase such as a car or house. Couples who have lived together before marriage typically have many of the traditional wedding gifts, such as appliances, dishes and linens. For the couple who has everything, cash is always an appropriate bridal shower gift.
Items you will need
Wishing well

Pictures of desired goal

Donation website

Party favors
Step

1
Express your preference for cash gifts before the shower. Let friends and family spread the word. It's frowned upon to explicitly beg for money on an invitation. Instead, ask close friends and family members to mention to anyone who asks about gifts that you'd prefer cash or a check.
Step

2
Let guests know what you're hoping to do with the money. Friends will be more willing to give money if they know they're paying for something specific. incorporate the plans for the money into the theme of the shower. For instance, use a photo of your honeymoon destination as a background for the bridal shower invitations or design the shower's theme around your new house.
Step

3
Create an online donation site. There are many sites to choose from, including a site specifically geared towards raising honeymoon funds. These sites are generally user friendly and free to set up. Include pictures of the happy couple, details of how you met, the proposal and what you are looking forward to about married life. Include personal touches so readers relate to the story.
Step

4
Have guests at the shower place contributions in a "wishing well." Decorate a bucket or box with wedding paraphernalia. Add pictures of the honeymoon destination, a new house or car, or just a photo of the happy couple. Guests can drop their contributions into the wishing well instead of handing them directly to the bride or the shower's hostess.
Step

5
Give back to the guests. Buy or create thoughtful wedding favors, such as decorated picture frames or gourmet coffee to hand out at the shower. Take the time to let guests know how much you appreciate their generosity. Write prompt thank-you notes. Make guests feel they are a valued part of the happy occasion.
Tips & Warnings
Create a regular wedding registry with a few needed items for anyone who may be uncomfortable giving cash.

Don't be disappointed if some guests prefer to give gifts instead of money. It's still the thought that counts!

Don't specifically ask for money on bridal shower or wedding invitations. Doing so is still considered bad etiquette.
Photo Credits
Thinkstock/Comstock/Getty Images