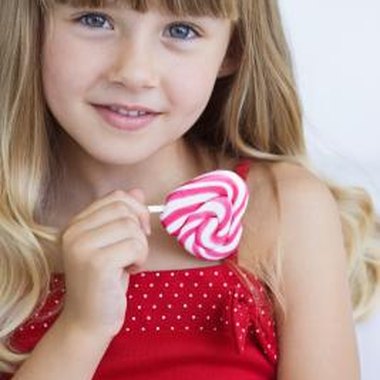 The world's best-known rag doll, Raggedy Ann, was born from the imagination of Johnny Gruelle in 1915. With a candy "I Love You" heart, Raggedy Ann comes to life, when humans aren't looking, to have adventures with her brother Raggedy Andy. Her bright red yarn hair and red triangle nose define this lovable doll, whose red, white and blue color theme has been re-invented for each new generation of Raggedy Ann fans. A Raggedy Ann theme party provides a whimsical experience for kids and grownups.
Invitations
The invitation is the first glimpse of your party guests will have, so make sure it represents the theme really well. Buy plain red or blue checkered gingham invitations and add Raggedy Ann stamps or stickers so they have the same homemade feel as Raggedy Ann herself. Use black felt tip markers to add "stitching" to the stickers and stamps so the invitation has a quilted appearance. For a personal invitation and treat, hand-deliver large red and white lollipops with custom-printed Raggedy Ann sticker invitations attached. Or print the invitation on a tag and attach it to the lollipop with red, white or blue ribbon. Include Raggedy Ann paper dolls in the invitation envelope for a playful treat.
Decor
Focus on the whimsy and fun of childhood dolls. Encourage guests to bring their own Raggedy Ann dolls to join in the fun and add to the decor. Decorate the party space at the ceiling with oversized and heart-shaped red balloons filled with helium. To decorate in corners, tie the balloons together in bouquets and hold them in place with a weight. Use red and white gingham table cloths and bright blue tableware. For table centerpieces, create arrangements of large red and white lollipops tied with red, white and blue ribbon and display them in glass jars. Guests can take the lollipops home as favors after the party. Put gifts iand child-friendly treats in little red wagons little red wagons throughout the party space.
Cake
For an easy Raggedy Ann theme cake, decorate a heart-shaped cake with red icing and spell out "I Love You" on top. For individual cakes, use heart-shaped cupcake molds and decorate them the same way as the larger version. For Raggedy Ann cupcakes, bake typical round cupcakes and decorate the top of each with a thin, smooth, layer of circular peach-colored fondant. Use buttercream icing to attach red licorice string for her hair, cut out a triangle of red licorice ribbon for the nose, use black circle candy for her eyes, and choose a black edible ink pen to draw Raggedy Ann's eyelashes eyebrows and mouth. For a party activity, get all the cupcake elements together and allow guests to assemble their own Raggedy Ann Cupcake faces.
Activities
Play entertaining and sweet games at your party. Post a large picture of Raggedy Ann on an open wall in your party space, and cut out a bunch of heart shapes with double sided tape on the back. Blindfold your guests and start a game of pin the heart on Raggedy Ann. The guest who gets their heart closest to where Raggedy Ann's heart should be, wins the game. Have a candy heart relay race where your guests break into teams and take turns running to fill a jar with candy hearts from a spoon. The first team to fill their jar wins. Or have your guests guess how many candy hearts are filling a jar, and the person who guesses closest to the exact number, wins either a prize, or the jar of candy. If the party is for young children, it is a nice idea to have small prizes for each child.
Favors
Send guests home with a gift that will act as a reminder of all the fun they had at the Raggedy Ann party. For really special gifts, offer each guest a Raggedy Ann book or their own small Raggedy Ann doll. Wrap the gifts in red and white gingham wrapping paper, or red and white gift bags, and top them off with beautiful red, white and blue ribbons. For edible favors, make heart-shaped or Raggedy Ann-shaped sugar cookies decorated with royal icing and wrapped in cellophane with a sweet little bow closure. Alternately, fill a heart-shaped box with candy hearts, just like the candy heart inside Raggedy Ann.
Photo Credits
Jupiterimages/Pixland/Getty Images