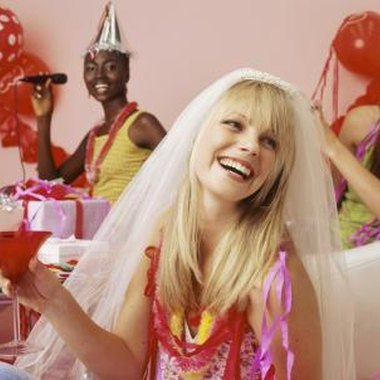 The bachelorette party is a fun rite of passage for the bride and all of her friends. It provides a chance for the bride-to-be to relax and cut loose with her friends and bridal party before the relative formality of the rehearsal dinner and wedding. Whether it is a night on the town spent clubbing, or an elegant dinner party, the goodie bags for guests should be in keeping with the theme of the evening.
Something Nice
Since many bachelorette parties involve partying and drinking to celebrate the bride's last few nights of being single, the next day could result in a hangover for many of the attendees. Make a thoughtful gift bag with a cute label that says "Morning After Survival Kit." Inside, place a bottle of Gatorade, a water bottle, individual packets of ibuprofen and aspirin, breath mints, and a gift certificate to a nearby restaurant known for its big, greasy breakfasts.
Something Naughty
Many bachelorette parties have a naughty theme. If yours is a little more risque, keep that theme going with the gift bags. Include small bottles of lube, a furry pair of handcuffs, condoms and X-rated lollipops. Obviously, this goodie bag idea is not ideal for everyone. If there is a chance that one of the guests may be offended, fill her bag with some other treats instead. Then, just be sure not to get the bags mixed up!
Something Silky
Everyone could probably use a bit of pampering as they get close to the big day. A goodie bag filled with fun things for the attendees to pamper and beautify themselves will be a delightful treat. Include a tub of body scrub, some luxurious terrycloth slippers, a facial mask, nail polish and a body sponge. If your budget allows, include gift certificates for a manicure or pedicure as well.
Something Sweet
Delicious treats are always enjoyable in a goodie bag.This is also a great goodie bag idea because it can be done at nearly any price level, from plain and simple with drugstore snacks to extravagant with Godiva chocolates and a nice bottle of wine. Also consider chocolate-dipped fruits, small cookies, truffles, elegant coffee beans and packs of biscotti.
References
The Everything Bachelorette Party: Throw a Party That the Bride and Her Friends Will Never Forget (Everything Series); Jennifer Lata Rung and Shelly Hagen;2003.
The Best Bachelorette Party Book; Becky Long; 2000.
Photo Credits
Stockbyte/Stockbyte/Getty Images