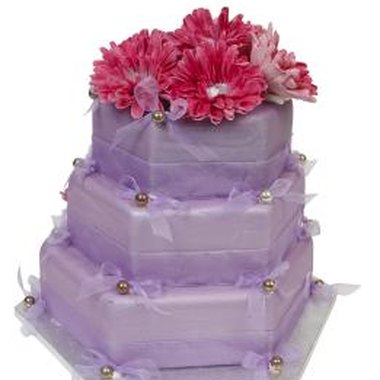 Referred to as the color of purpose, purple has been associated with magic and mystery. It is the color of the crown chakra and fittingly represents royalty. A most important tradition during Mardi Gras is the colorful purple, green and gold King Cake, which symbolizes the visit of the three wise men to Bethlehem. Celebrate the power of purple by throwing a purple-themed kid party, slumber party or wedding shower and serve purple party food to guests.
Main Courses
Cooks.com offers an array of simple recipes that include naturally purple ingredients including a roast pheasant with a purple plum sauce; a four-ingredient purple chicken with cranberries and a pesto sauce with canned beets tossed with a purple pasta or pasta viola. Stuffed eggplant, purple artichokes and chilled purple potato vichyssoise compliment a lavender-themed garden party. Tastykitchens.com features a pizza with purple potato slices and caramelized red onion for a colorful entrée.
Side Dishes
Along with entrées, cooks.com also has side dishes such as an orange, anise and purple onion salad to keep with the purple theme. Purple cabbage makes delightful purple coleslaw with added red onions. Pickled eggs made with beets accompany cold meats for a purple picnic. While, purple Peruvian potatoes create interesting mashed potatoes and potato salads.
Desserts
Grape Jell-O is a quick and cooling treat. Of course, purple icing on a cake, petit fours and cookies is an easy decoration. Purple plums piled high in a prebaked pie crust are a welcome dessert at a picnic. Cooks.com also has a purple dessert recipe, which includes bite-size angel food cake pieces and blueberry pie filling.
Snacks
For a quick treat, grape licorice and purple cotton candy add a violet spot color to a matching table setting. A mauve menu might include a fresh fruit platter: grapes, purple plums, figs, black raspberries, blueberries and black cherries served with a dip made of black raspberry yogurt and whipped topping. Dragon and passion fruit have purple skins and add an exotic flavor. Serve a savory snack of purple potato chips in a purple paper bag.
Drinks
Add purple ice cubes made from fruit juice or blue and red food coloring added to water before freezing. They add pizzazz to a pomegranate, raspberry or blueberry herbal iced tea. Serve lavender pink lemonade with a garnish of violets or lavender. Cooks.com suggests a Purple-Cow Ice Cream Soda made of grape juice, ginger ale and vanilla ice cream. For alcoholic drinks, any kind of red wine will do, but kick it up a notch to create sangria by adding purple fruits and juices. Mix vodka with cranberry, blueberry or grape juice for a perfect purple punch.
Photo Credits
Hemera Technologies/PhotoObjects.net/Getty Images