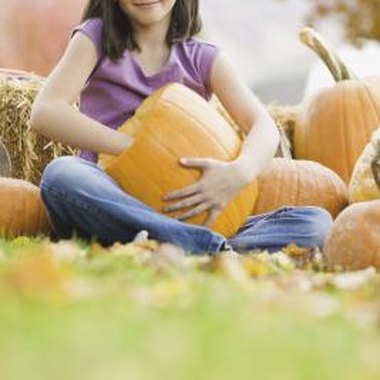 Winchester is the seat of Frederick County in the northwestern part of Virginia and is also the home of Shenandoah University. The Shenandoah Apple Blossom Festival, held in Winchester since 1924, attracts 250,000 people each year. Pumpkin farms are plentiful around Winchester, and in the fall you and your children have many different choices for finding the perfect pumpkins and fall decorations.
Great Country Farms
Each fall, Great Country Farms (greatcountryfarms.com) hosts its Fall Pumpkin Harvest Festival. The Pumpkin Princess tells secrets in the pumpkin patch on the weekends, and such rides as the Pumpkin Jumpin' Pillow and the Double Barrel Slide are up and running during the festival. Other attractions include five different field mazes and the Oinkintucky Derby Pig Races.
Hartland Orchard
Down the road in nearby Markham, Hartland Orchard (hartlandorchard.com) has pumpkin patches in the fall and welcomes visitors to pick their own pumpkins. If you visit late in the pumpkin season, you can also preview the Christmas tree selection. The cornfield maze is a popular attraction for pumpkin hunters as well.
Hill High Farm
In Winchester and about 10 miles from Interstate 81, Hill High Farm (no website; 933 Barley Ln., Winchester; 540-667-7377) offers a haunted house during pumpkin picking season, in addition to the traditional corn maze. This farm also offers apple picking during the fall.
Marker-Miller Orchards
Marker-Miller Orchards (markermillerorchards.com) does not offer as much in the way of fun and games as some of the other farms around Winchester, but it does offer more in variety, with 12 different types of pumpkins available in September and October. Picking season begins in June for everything from strawberries to peaches to green beans, and the orchards and pumpkin patches are open in the fall.
Photo Credits
Jupiterimages/Brand X Pictures/Getty Images