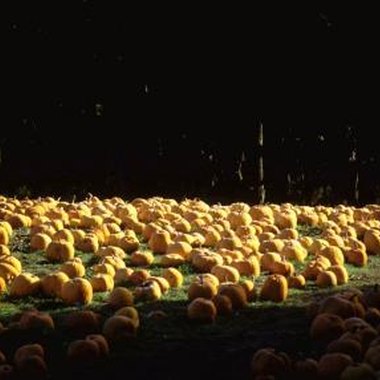 Picking pumpkins can be a whole lot of fun, and when you get home, you can make pumpkin pie, pumpkin soup and even pumpkin ice cream. Picking pumpkins in Syracuse, New York, can be a great family activity. Besides using them in your favorite recipes, you can also decorate your home inside and out with pumpkins. You will be surprised at the varieties, textures and colors available. Pumpkins are not just orange any more.
Tim's Pumpkin Patch
At Tim's Pumpkin Patch (timspumpkinpatch.com), you can enjoy the Harvest House Bakery and Gift Shop and choose from a range of foods and beverages that include apple cider, pumpkin bread, ghost cookies and more. Tim's Pumpkin Patch features some of the best pumpkins in Central New York including Atlantic Giant Pumpkins. Tim's Pumpkin Patch has horse rides for the kids, a grain bin play area, straw maze and farm animals such as goats, rabbits, ducks and cows.
Pumpkins at Hollow
Drive yourself and your family to Pumpkins at Hollow (thehollow.com), where you can meet Cindy, Faye and Laura, your friendly pumpkin patch managers. Admission is free at the Pumpkins at Hollow Pumpkin Farm, where you can enjoy the grounds of a well-kept farm. Besides selecting pumpkins, you and your family can enjoy a children's corn bin play area, farm animals and a wagon ride. If you get hungry while at Pumpkins at Hollow, you can choose hamburgers, hotdogs, fries and ice cream.
Pick-a-Pumpkin Pumpkin Patch
A short drive from Syracuse is the Pick-a-Pumpkin Pumpkin Patch farm (pickapumpkin.com) in the Schoharie Valley, a picturesque area of New York state. Admission to the Pick-a-Pumpkin Pumpkin Patch Farm is free. You can enjoy hay rides, a hay tunnel, a three-story tree house, fresh cider donuts and friendly farm animals.
Burrell's Navarino Orchard
Burrell's Navarino Orchard (navarinoorchard.com) in beautiful Syracuse in Upstate New York is a family-owned and operated farm that boasts a three-generation heritage. Burrell's Navarino Orchard has a variety of fruits and vegetables to pick, but their most famous produce is their pumpkins. Burrell's Navarino Orchard has its own Navarino Country Store, where you can purchase seasonal fruits and vegetables, homemade goods, and arts and crafts.
Resources
Photo Credits
Jupiterimages/Photos.com/Getty Images