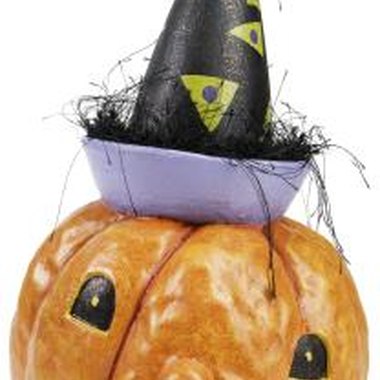 Queens, New York has two major pumpkin farms. People who want to make jack-o-lanterns early in the season may visit Green Meadows Farms, while the Queens County Farm Museum makes their pumpkins available in October. In addition to its pumpkin patch Green Meadows Farms offers visitors a petting farm. Queens County Farm Museum's entertainment choices include a corn maze, haunted house and festivals.
Green Meadows Farm
The Green Meadows Farm in Queens' Floral Park neighborhood is part of a national chain of petting farms run by the Keyes family of Wisconsin. The farm allows each visitor to pick a pumpkin during the months of September and October and the price of the pumpkin is included with the cost of admission. The farm has a stringent pumpkin patch policy that all participants are expected to follow. The policy requires that each person take only one pumpkin that they can carry themselves. The Keyes family actually breeds pumpkins smaller than soccer balls so that children have no problem carrying them.
Queens County Farm Museum
The Queens County Farm Museum is also in Floral Park. Every weekend during October pumpkin picking is allowed. Some pumpkins are grown on-site while others are shipped in from other farms. If a harvest is heavily affected by pests, the pumpkins are picked early and transferred to an on-site greenhouse. Visitors choose from early-picked pumpkins during these seasons as opposed to picking them directly from the patch. The cost of the pumpkins is dependent on their sizes. Hayrides and a corn maze are available to enhance the farm appreciation experience.
Halloween Haunted House
Families with children ages four to 12 may take their children to the Queens County Farm Museum's Halloween Haunted House. It operates the during the late evening hours of the last three days of Halloween. In addition to spooks and haunts, children are entertained with the farm's hayrides and harvest produce such as apple cider. Children can choose from among the last of the season's pumpkins while visiting the Halloween Haunted House. Pumpkin prices are separate from house admission fees and dependent upon pumpkin size.
Children's Fall Festival
Pumpkin picking is one feature of Queens County Farm Museum's Children's Fall Festival. The festival occurs one day in October and is designed to incorporate all of the season's agricultural and folkloric entertainment options. Children are encouraged to wear costumes and participate in a petting zoo, pony rides and sack races. Live music and craft vendors are on-site for adult fun. Entry to the festival provides discounted entry to the Halloween Haunted House that operates for three hours at the end of the festival.
Photo Credits
PhotoObjects.net/PhotoObjects.net/Getty Images