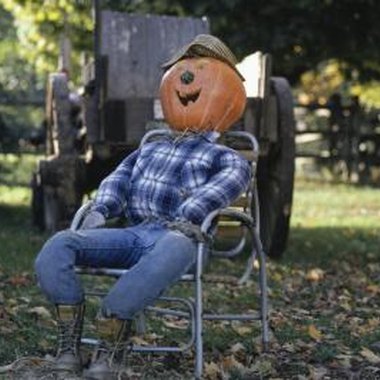 Changing leaves, brisk weather and pumpkin festivals make Ontario a beautiful place to be in the fall months. Pumpkin festivals are a way to celebrate the fall season and the pumpkin harvest. The events are filled with family-friendly activities such as tractor rides, and, of course, many pumpkins to pick.
Waterford Pumpkin Festival
The Waterford Pumpkin Festival takes place annually in the city of Waterford. The three-day event takes place in October and includes activities such as a Little Miss and Master Pumpkin Pageant, a carnival, a parade, a football game, a tractor show and a car show. Food vendors provide many types of food and beverages, not all related to pumpkins. The festival also includes a pumpkin pyramid with 1,500 carved and lit pumpkins for an after-dark spectacle.
Pumpkinfest
Pumpkinfest is a large festival that takes place annually in Port Elgin, Ontario. There is a yearly contest for the largest vegetables, such as enormous watermelons and pumpkins. There is also a pumpkin patch for picking pumpkins, a car show, a pet show, a motorcycle show and a baking contest. Vendors offer a variety of food and beverages. Pumpkinfest takes place over one weekend in early October.
The Keene Pumpkin Festival
The Keene Pumpkin Festival offers an array of activities for children and adults. A talent show provides entertainment through the various talents of the local population. Kids enjoy the bouncy castle, face painting, games, pumpkin crowns and storytelling. Adults can take in art, antiques, large vegetables, dancing, singing and baking contests. Food and beverages are sold at the festival from area vendors.
Gammondale Pumpkinfest
The Gammondale Pumpkinfest takes place over multiple weekends in September and October in the town of Gammondale, Ontario. The festival offers kid-friendly activities such as a tractor pull, a tire swing, a petting zoo, a kids maze, rubber ducky races and tricycle trails. This is a full service farm and includes ponies and sleigh horses for children and adults to ride. Picking pumpkins in the patches is a fun activity during the festival and the farm sells food and beverages to visitors.
Photo Credits
DC Productions/Photodisc/Getty Images