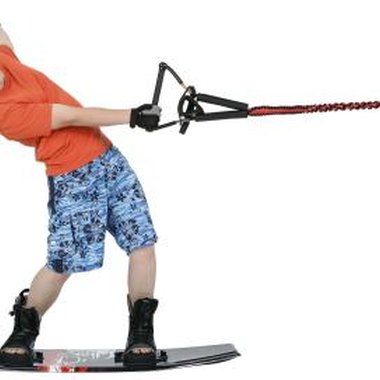 Most wakeboard towers are designed to be used with a single tow line, supporting a single person on a board. Inflatables place unique pressure on wakeboard towers exceeding most tower's strain capacity. Wakeboard towers not strong enough to support inflatable towing may crack under pressure and damage the tower and boat. If your wakeboard towers is designed to support the extra strain, some simple modifications enable your boat to tow inflatables.
Items you will need
Wakeboard tower strong enough to support towables

Towable rope extension

Signal flag
Step

1
Consult your wakeboard manufacturer or owner's manual to determine if your wakeboard tower is strong enough to support towables. The unique forces applied when using towables cause stresses most towers are not designed to handle. If your wakeboard tower is not designed for use with inflatables and other towables, do not use your tower for towing them.
Step

2
Attach a line extender to the towable rope. Without additional length, the rope connection height amplifies the bounce of the towable, potentially causing unsafe conditions. Attach the rope to the inflatable.
Step

3
Attach the towable rope to the wakeboard tower connection point. Use a double loop to ensure the rope does not slip free during operation.
Step

4
Load the riders on the towable. Enage the motor at a slow speed to tighten the line. Feed the line out of the boat slowly until the light is tightened.
Step

5
Accelerate the engine no more than the recommended inflatable towing speed. Watch the rider for signs of distress or fun. Turn the boat to create waves for bouncing the riders. When towing a rider, have a spotter in the boat, in addition to the driver, and use a signal flag to alert other boaters to downed riders.
Photo Credits
Photos.com/PhotoObjects.net/Getty Images