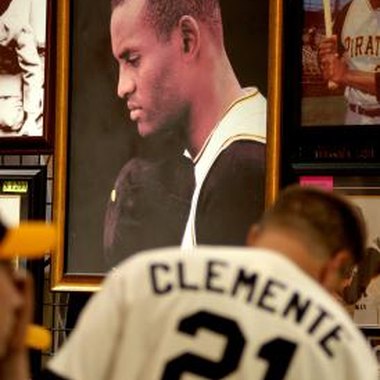 On the baseball field, there were few players as talented and smooth as Puerto Rico's Roberto Clemente. Clemente established himself as one of the game's all-time greats with his sweet hitting stroke and stellar defensive play. He was just as impressive off the field. His humanitarian efforts stretched beyond his native country, making Clemente one of the most admired athletes of his era.
Personal
Clemente was born in Carolina, Puerto Rico, on August 18, 1934. He was the youngest of seven children, and his father worked as the foreman of a sugarcane crop. As a child, Clemente worked to help support his family, but he also began to develop a strong interest in athletics. Clemente was a natural athlete who excelled in several track-and-field events. He also developed a love for baseball, despite the rough conditions in his home region. The young Clemente spent countless hours working on his game.
Baseball Career
Clemente played for the Santurce Crabbers of the Puerto Rican Professional Baseball League. His play gained the attention of the major leagues in the U.S., and Clemente signed a minor-league deal with the Brooklyn Dodgers. After one season with the club, the Pittsburgh Pirates acquired him; he was 20 years old. For five seasons, Clemente struggled to find his footing in the major leagues, but the Puerto Rican found his groove in 1960. He cracked 16 home runs, made his first All-Star team and helped the Pirates win the World Series. Clemente's career took off from there. He was revered throughout his career for his strong throwing arm in right field and his consistent production as a hitter.
Achievements
Clemente made an indelible mark on the game of baseball during his 18-year career, which lasted through the 1972 season. He made 12 All-Star teams, captured 12 Gold Gloves for outstanding defense, won the 1966 National League MVP and led the league in batting average four times. He finished his career with exactly 3,000 hits and helped the Pirates win two World Series titles.
Off the Field
Clemente was known for being a graceful gentleman, but he still experienced some social hardships. When he first entered the major leagues, Clemente was the target of racism. However, he turned the negative into a positive -- the hate motivated him to stand up for minority rights in his home country. Clemente served six months in the U.S. Marine Corps Reserve and was known to be a regular financial contributor to charities.
Death
Clemente was trying to help those in need at the time of his passing. In 1972, Clemente boarded a flight to Nicaragua that was loaded with food and medicine for the people of that country, who had just experienced a devastating earthquake. Shortly after takeoff, the plane crashed into the Atlantic Ocean. Clemente's body was never recovered. He was 38 years old. Major League Baseball honored the fallen hero by waiving their five-year retirement rule for induction into the Hall of Fame. He was inducted in 1973. Every year, Major League Baseball presents the Roberto Clemente Award to a player who portrays the qualities of Clemente: community involvement, sportsmanship and success on the field.
Photo Credits
Paul Hawthorne/Getty Images Sport/Getty Images