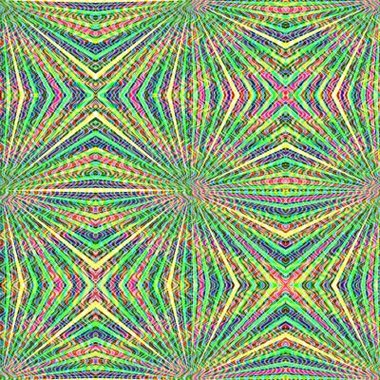 The term "psychedelic" can refer to various things, many of which originate in the 1960s. Inspired by mind-bending substances, artists, musicians and other inventive types expanded the boundaries of creativity, eschewing convention for out-of-this-world experiences. Recreate this exciting spirit with a psychedelically themed party, using color, light and sound to create a trippy good time.
Trippy Tunes
Score a psychedelic party with an assortment of groovy songs that will have guests feeling far out. Psychedelic music began in the '60s, when musicians began experimenting with free-form song structures and exotic elements. Play a mix of psychedelic tunes at your party, including songs like Strawberry Alarm Clock's "Incense and Peppermints."
Tie-Dye
Create a tie-dye station for guest to make their own psychedelic clothes. Using buckets filled with liquid dye in varying colors, give guests plain white T-shirts and rubber bands. Have them tie off sections of the shirt using the bands before dipping them into the dye. Rinse the garments in a tub of cold water before hanging them up to dry or tossing them in the machine after ensuring all dye has been removed.
Black Lights and Posters
Decorate with a black light and specially designed posters to create a colorful psychedelic atmosphere. Black lights, when used in a dark room, make other colors seem to glow and turn shades of deep blue. The result can be intense, and hanging special black light-sensitive posters on the wall will create a trippy display of lively colors sure to amaze guests. Encourage partiers to wear light-colored clothing, particularly in shades of white, as it will also glow under a black light.
Trippy Movie Backdrop
Project psychedelic movies onto a wall to create a trippy backdrop for guests as they dance and mingle. Many films, particularly those from the 1960s, have out-of-this-world visuals ideal for illuminating the background of party. "Yellow Submarine," the animated flick featuring the Beatles, is filled with bizarre and colorful creatures, as is Disney's "Fantasia." For something with live action, consider "Willy Wonka and the Chocolate Factory" or "The Wizard of Oz."
Resources
Photo Credits
Photos.com/Photos.com/Getty Images