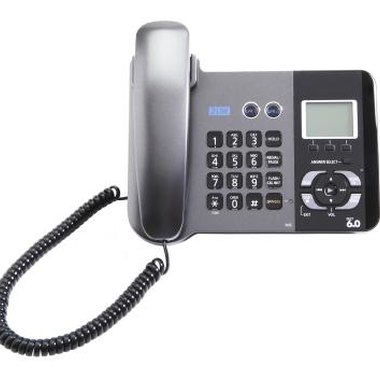 River Falls, Wisconsin, lies in St. Croix County. The area is host to many different telephone services that compete to provide telephone service to residential and business telephones. Each company has benefits that the individual needs to consider before choosing a telephone service. The company benefits need to match the specific needs of the family or business.
Comcast
Comcast offers phone service under its xfinity "Voice" program. The "Voice" program is categorized by price; for a higher price a consumer can purchase the unlimited program that allows for unlimited local and long distance calls to Canada, Puerto Rico and the United States. The "Local with More" program provides unlimited local calling and nationwide long-distance calling at five cents a minute for a lower price. Both plans include customer-chosen options such as call waiting, three way calling, voice mail options and more.
Baldwin
Baldwin Telecom Services is the oldest telephone service in St. Croix County. This telephone company serves the entire county and offers standard telephone service. Local calls are free; different rates apply for calls to different countries. Features that come with the service include three-way calling, intercom service, enhanced 911 service, caller identification, call waiting, speed calling, voicemail to email, call blocking and call forwarding.
Qwest
Qwest Home Phone offers a range of four packages. The basic package costs the least and offers only unlimited local calling. The packages proceed to rise in price and in features. Qwest Home Phone is the best choice for residents of River Falls who need options, such as those who have relatives who move consistently. As loved ones move, the plans can be adjusted to accommodate the needs of the family.
Velocity
Velocity Telephone provides phone service in the interest of business. Residential lines and business lines are available separately; Internet connections for businesses are also featured. Business solutions and assistance are a large part of Velocity's services. The company offers fax services, email assistance, residential and business voice mail services, virtual office assistance and video services. While Velocity does service residential telephones, its focus is more on the small or local business.
Frontier
Frontier separates its services into residential and business; however, the focus remains on maintaining quality service to both homes and businesses. The residential phone packages offer unlimited local calling and claims to not fail even in a power outage. Residential customers have different call packages from which to choose and different calling options, such as call waiting and voice mail options.
Integra
Integra Telecom offers extended services for residents and businesses. Residential line options include enhanced call features such as call waiting and last call return, voice messaging and long distance plans. Integra is also the only company to advertise free directory assistance placement, where the residential number is listed in the Yellow Pages. Business services offered include toll free lines and voice messaging services.
Photo Credits
Thomas Northcut/Photodisc/Getty Images