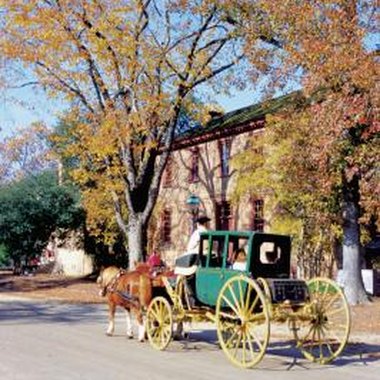 Williamsburg's rich history as one of the earliest colonial settlements has made it a modern tourist mecca. In contrast to the historical ambiance, the city of Williamsburg has partnered with several businesses to provide free Wi-Fi Internet to residents and visitors in the downtown area. For permanent residents, several broadband Internet providers sell their services in the Williamsburg area. Both casual and power users should be able to find a package that fits within their budgets.
Cox
Cox offers cable Internet service in Williamsburg designed to meet people's needs. The Essential Internet package features download speeds of 3 Mbps, enough for casual browsing, email and online banking. Other packages offer top speeds of 15, 25 and 50 Mpbs, and every Cox subscriber has free access to ESPN3. Cox includes a free McAfee Internet security suite with each package. Subscribers have the benefit of identity protection, spam blocking tools and antivirus software.
Verizon
Verizon sells a basic DSL Internet package with download speeds from .5 to 1 Mbps. For customers requiring more power, High-Speed Internet Enhanced features speeds up to 15 Mbps where available. All subscribers receive free access to all of Verizon's Wi-Fi hotspots nationwide. Subscribers also enjoy ESPN3, an online, live sports network. Verizon also offers with its DSL packages an on-demand PC game service with a library of thousands of games for a monthly fee. Verizon DSL customers also have access to 24/7 technical support in the event of difficulties.
Cavalier
Cavalier Telephone is a local home phone provider that also offers high-speed DSL service. New subscribers in Williamsburg will receive a free modem and wireless router and a self-install kit. Download speeds over Cavalier's network reach 8 Mbps. Net Guardian security software protects against viruses, pop-up ads and spam, and security updates are automatic. The Net Medic tool diagnoses and repairs many Internet connection problems and is included for free. For more serious problems, customer support lines are open 24/7.
Clearwire
Clearwire offers plans for both home and mobile users. The ClearPremium Plus deal provides mobile download speeds up to 2 Mbps. Clearwire waives activation fees when new subscribers sign a two-year service agreement. The PC Card deal is designed with home users in mind and offers speeds of 1.5 Mbps and five email accounts. A no-commitment option is available with all Clearwire plans, but other charges may apply. Bundling digital voice service with high-speed Internet can provide savings when compared with buying each service individually.
Resources
Photo Credits
Medioimages/Photodisc/Photodisc/Getty Images