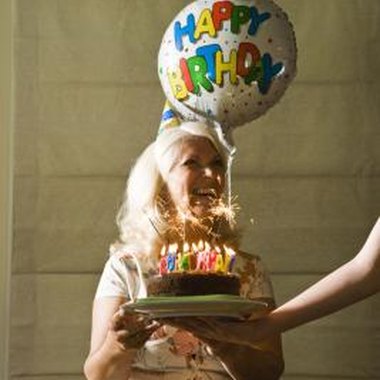 The proper wording for a sixtieth birthday party celebration depends on what kind of party you are hosting and the personality of the person being honored. Whether the party is going to be a formal affair or beach party and the guest of honor is a fun-loving child at heart or a dignified patriarchal figure who loves to dress up should determine what wording you use on the invitation.
Poetry or Prose
For a fun, informal party, you may want to use poetry to set up the invitation. Such phrasing as "Isn't it nifty? Sam's turning sixty!" can set the tone for a great relaxed evening. However, if the party is going to be held at a fancy restaurant or require formal clothing, you may want to stick with a conservative prose style such as "You are cordially invited to Sam Smith's 60th birthday party." Although there are many free Internet sources available for getting the wording just right, a company called Samples-help.org.uk offers a free template where you can download a variety of preworded 60th birthday invitations.
Who, What, When, Where and Why
The five Ws must be a part of the wording on your invitation. "Susan Smith invites Sam's friends and co-workers to his 60th birthday party" is a simple statement that tells who is hosting the party, who is invited and why the party is being given. What do your guests need to do? Should they come in costume or bring a memento of the honoree? Do you want guests to arrive early to surprise the guest of honor or should they bring cans of food instead of presents? Let your guests know your expectations in the invitation. For example, you might state "In lieu of gifts, please bring food donations for the Chicago Food Depository." When is the party being given? Be sure to include a date, day and time. Where is the celebration being given? Don't just give an address; mention if it is the address for a restaurant or other facility. For example, Rosetti's Restaurant at 1234 Maple Street, Chicago IL gives the guests all the information they would need to get a map or ask someone who might know how to get to the exact location.
Contact Information
Be sure to give RSVP information. Who do you want the guests to contact? If it is a surprise party, you may not want them contacting you at home. Besides a name and phone number, you may want to include an email address and an alternate phone number along with a deadline date to reply.
Internet Invitations
Wording for Internet birthday invitations is usually suggested by the host site. You may be required to register or you may simply be allowed to look at available sample invitations. If you plan to use the Internet for your invitations, here are four invitation sites you might find helpful: socializr.com, pingg.com, ecards.myfuncards.com and new.evite.com.
Photo Credits
Jupiterimages/BananaStock/Getty Images