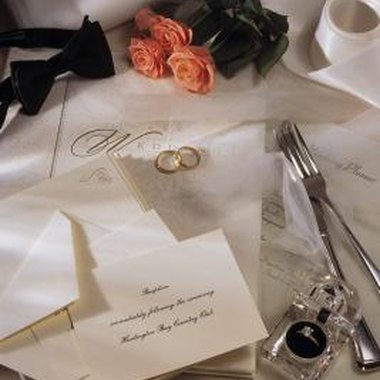 Whether you're throwing a party, hosting a shower or planning a wedding, it's important to send out invitations. It's a nicety that serves a couple of purposes -- people on the receiving end have all the necessary details of the event in writing and you know how may people to plan for.
Weddings
Invitations for a wedding should go out at least six weeks before the big day. Your guests need time to arrange their schedules and make travel plans if they are coming from out of town. Ask your guests to RSVP at least two weeks before the wedding so you're not handling those particular details the week of the wedding. Envelopes should be handwritten with the return address written on the back flap of the envelope.
Birthday Invites
If you are planning a child's birthday party, choose invitations that are age appropriate and include information about activities you have planned for the party in case guests need to bring something such as a bathing suit. For a formal birthday party, send the invitations out six to eight weeks beforehand. Two or three weeks is enough notice for a more casual party. Include the date, time and location of the party. It's also acceptable to put an end time for the party, especially if the guests are children, since transportation will need to be arranged.
Bridal or Baby Showers
For bridal or baby showers, include a wish list or the store names where the guest of honor is registered. For a lingerie party, include the bride's size. Include time, date and directions with a phone number to RSVP. Send invitations out at least four weeks in advance so people have time to plan but not enough time to forget. If you are hosting more than one shower for the guest of honor, don't invite the same guests and remember to send thank you cards.
Casual Get-Togethers
Casual get-togethers such as backyard barbecues or luncheons don't require a formal invitation. Ask your friends to attend when you see them in person or ask them over the phone. If you want to send invitations, send them out at least a week in advance with instructions to RSVP so you'll know how many to prepare for.
Photo Credits
Comstock/Comstock/Getty Images