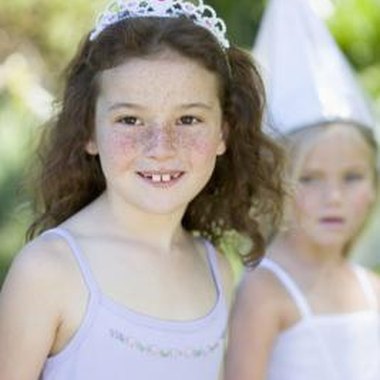 It's the birthday girl's big day, but all the little girls at her party should be a princess for the day. With a princess oasis party theme, you can take the whole party on a fantasy trip into a desert oasis and pamper them like Arabian princesses. Highlight one or all of the princess oasis ideas below and your birthday party will be the talk of the town.
Arabian Horses
Focus on Arabian horses by bringing a live pony to your party. Make or buy an elaborate mane and ponytail decoration for the horse to wear and let each girl wear a chiffon gown for her pony ride. Be sure to take pictures of the girls when they ride the pony so you can distribute them at the end of the party or send them later digitally. Give each guest a stuffed pony to take home with her and decorate with horse-themed supplies.
Makeup and Nail Spa
Princesses are pampered, so pamper your guests with a makeup and nail spa. Invite "experts" to fix hair, paint nails and put on makeup for the party guests. Use glitter sprays, sparkly hair ornaments, shimmering nail colors and makeup supplies.
Oasis Tents
Splurge on yards of flowing fabrics and drape them around as your decor. Hang strips of sheer fabrics from an outdoor canopy frame and place carpet squares around inside on the floor. Serve your guests inside the tent.
Costumes
Make headpieces and scarves from satin fabrics for the guests to wear. Buy fabric trims with beads, sequins, bells, pompoms or even feathers, and use these to embellish princess tiaras, make ankle bracelets and trim scarves. You can also give toy tambourines as party favors to accentuate the costumes.
Music and Entertainment
Play Arabian music CDs as background music. Teach the party guests belly dancing steps and have them dance to the music. You could also hire a local belly dance group to teach the steps and to perform for the party.
Feast for a Princess
Be sure to serve food that is along the oasis theme and fit for a princess. For example, serve fig cookies, camel-shaped sugar cookies and dried tropical fruits. Cupcakes topped with candied "jewels" such as sugared sour gummies are also a great princess oasis treat. Gold foil-wrapped chocolate coins scattered about on the serving table make a nice decoration as well as fun party food. Candy necklaces also add to the princess-themed menu.
Photo Credits
Pixland/Pixland/Getty Images