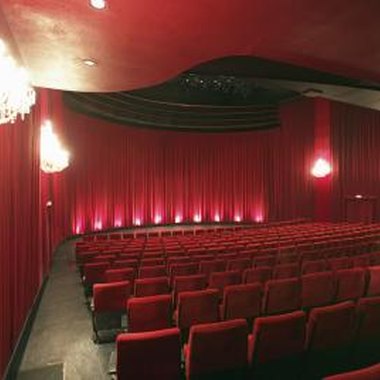 He's worked his heart out to give a dazzling theater performance and it's time to honor his efforts and show your support with a post-performance gift. Don't worry about the size or cost of the gift. Instead, focus on choosing a thoughtful present that applauds his talent and communicates how proud you are of his performance.
Small Tokens
A meaningful trinket can be a cherished gift. Give him a comedy-tragedy charm, pendant or keychain. Gift a set of Shakespeare-themed magnets or a personalized bookmark. If the actor is also a writer, give him a set of pewter pencil toppers shaped like Shakespeare's head. For a comedy actor, gift a set of finger puppets or a set of shot glasses engraved with the comedy-tragedy masks. For keeping his passion close to his heart at all times, give him a comedy-tragedy lapel pin.
Decorative Gifts
Give the actor something to display in his dressing room. A drama mask set inside a shadow box will look attractive on the wall. Or have a crew member take candid shots throughout dress rehearsal and the actual performance. Develop the photos and arrange them in a framed collage. Buy a small, plain white pillow and embroider the performance date, time and name, along with the actor's name and role. Have each cast member sign it.
Food and Drink
After an intense performance, he may be ready for some refreshments. Bake (or have a deli create) a congratulatory cake for the actor. Have his name, role and the performance title written in icing. Present him with a bottle of luxury wine, whiskey or champagne. Bake or purchase gourmet cookies and present them in an attractive tin container. If he has a strong sweet tooth, give him a box of gourmet chocolates with a bottle of dessert wine, such as moscato.
Sentimental Gifts
Help him capture the nostalgic feeling of working with the cast and crew. Give him a framed photo of the entire theater company with the performance and date inscribed on plate attached to the frame. Buy him a leather-bound journal and ask each cast member to write a page on her experience and favorite memories of the performance. Have the performance recorded by a professional videographer and present it in DVD form to the actor so he can enjoy and remember it forever.
Photo Credits
Digital Vision./Digital Vision/Getty Images