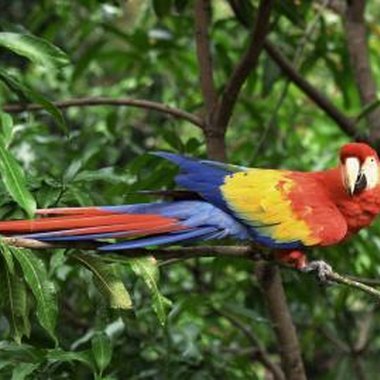 Preschool jungle animal games teach students about animals and climates in different parts of the world. Preschool jungle animal games can either be online games or games kids play as a group. Use group play for gross motor skill time and imaginative play, as well as reinforcement after sharing stories with children about the jungle and its animals.
Catch the Snake by the Tail
In this game, children get to pretend they are one of the large snakes found in the jungle. Before they play, read books with them about large snakes, what they eat and how big they can get. Show photographs so the children get a good idea of just how large some of these snakes can be. Then have children line up in a line holding each other by the waist. Have the first child in line try to catch the last child in the line without breaking the chain. After two turns, have the child at the head of the line go to the back. Continue playing until all children have had a chance to be both the head and the tail.
Jungle Obstacle Course
Have children choose what type of jungle animal they want to be for the jungle obstacle course. Take time to demonstrate what the different animals sound like, or play jungle animal sound effects from the computer or a CD player. Set up your outdoor play area with branches and leaves, making a path up to the jungle gym. Have students, as their animal characters, go through the jungle obstacle course, over and under branches and swinging on swings and monkey bars, until all students get to the end.
Animal Jungle Game
The Animal Jungle Game from Sheppard Software (sheppardsoftware.com) is an online game that helps preschoolers learn about jungle animals. Kids click on jungle animals to hear their sounds and names, then move to the next screen and identify the animals based on the characteristics they see.
Jungle Jumper
The online game Jungle Jumper from Kaboose (funschool.kaboose.com) has kids traveling through the jungle to find food for their jungle animal friends. This arcade-style game lets preschoolers enjoy themselves learning about jungle animals while they try to feed them the right food. Just be careful not to touch the animals while you are feeding them!
Photo Credits
NA/Photos.com/Getty Images