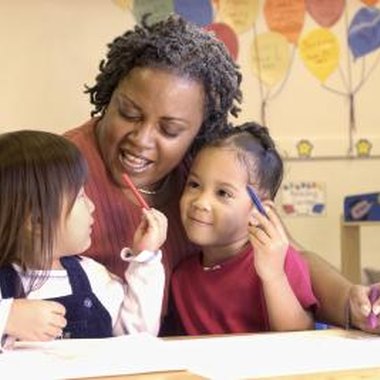 Preschoolers love games. When games combine preschoolers' love of fun with important preschool skills such as numbers and the alphabet, children build important skills. Learning numbers and the alphabet are the building blocks for mathematics and reading, so getting preschoolers to play these games will get them off to a good start.
Sunnie's Letters A Through E
Sunnie's Letters A Through E is an online game available through Sheppard Software. Sunnie is a little character who loves both letters and animals. Preschoolers enjoy helping Sunnie learn the names of her letters and then use those letters to identify animals. This game focuses on letter A through E and early keyboarding skills.
The Number Train
On LearningPlanet.com, preschoolers take a ride on the number train. This preschool game has kids building their own train by adding boxcars numbered one through 10. Once they build their train, kids can click on a box car and see the number represented through an insect or animal character.
Connect the Letters
Connect the Letters, from Caboose lets preschoolers learn their letters and create a coloring page at the same time. This game also helps children learn the sounds letters make. After connecting the right letters with the right sounds and pictures, print out the coloring page for more learning fun.
Jumpstart Preschool
Jumpstart Preschool has free on-line games for preschool kids. These games teach numbers, letters and other important preschool activities. The games areas are divided into categories by subject and for boys and girls. Parents simply register for an account online and kids can begin to play and learn right away.
Photo Credits
Jupiterimages/Photos.com/Getty Images