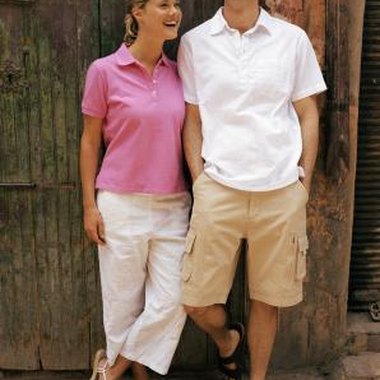 A preppy party brings to mind Lacoste shirts and argyle sweater vests from the '80s. Hosting a preppy party can be a fun blast into the past for party guests. Choosing a theme, such as the '80s, makes it easier to plan food, music and decorations that go along with the theme. Don't forget to pop your collar.
Decorations
Decorate for a preppy party using lots of light colors. Preppy people frequently wear pastels, and preppy clothes often come in colors such as lime green, peach, light pink and baby blue. Grab some balloons and streamers in these colors for your preppy party. Put up some posters from the '80s that will remind everyone of preppy style, such as movie posters from "Valley Girl" and "Pretty in Pink" and television shows such as "Miami Vice." Don't do anything too wild with your decorations; preppy people are known to be more conservative. Have name tags for guests that are preppy characters everyone can become, such as "Muffy," "Blaine" and "Stef."
Clothing
Dressing for a preppy party is the best part. Find some old Ralph Lauren Polo or Lacoste shirts and put one on. Wear jeans or khaki pants with a braided leather belt and finish the look off with some penny loafers for a classic preppy look. Feathered hair, pastel makeup for women and minimal accessories complete the party outfit. For a true '80s preppy look, find a cord for stringing your sunglasses and wear them around your neck. Top your Polo shirt off with an argyle sweater vest.
Music
Preppies may not have listened to headbanging rock music or what was considered cool. If you have a record player, that will make an '80s party more authentic, but CDs you have burned yourself will work too. Bands like Genesis, The Police, Modern English, Hall & Oates, Night Ranger and Journey should definitely be played at your preppy party. Throw in a little Devo, Foreigner and REO Speedwagon and you'll have everyone dancing.
Refreshments and Entertainment
Grab some '80s-inspired games that guests can play while they nosh on some preppy snacks. Play an '80s version of the famous game Trivial Pursuit. An edition of the DVD game Scene It? also offers a fun way to remember the preppy decade. A scene in the movie "Valley Girl" shows preppy party guests enjoying sushi for the first time, so lay out a sushi buffet for guests. Also have on hand raw vegetables and dip, chips and dip, and Tab and wine coolers to drink.
Photo Credits
Digital Vision/Photodisc/Getty Images