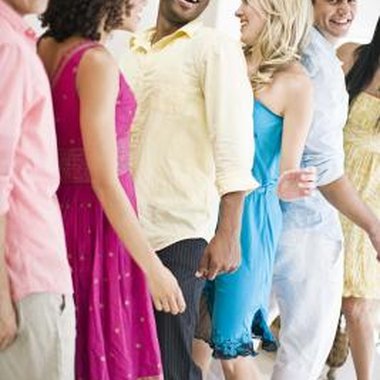 Excitement is rising as the days get closer to the big event. You've made the guest list, created an enticing menu, determined party activities and everything is in order so far. Although it may feel overwhelming to be in charge of a party, its all worth it when you see the guest of honor's face light up. Follow these pre-party preparation tips to tie up any last-minute details.
Three Days Before
Place yourself in your guest's shoes. Think of the areas that your guest will most likely walk through and enter. Evaluate the rooms in your home. Write a checklist of the tasks that need to be done in each room. Remove clutter; it can create a messy look even when your home is clean. If your guests will only be in certain areas such as the dining room or the living room, skip cleaning the bedrooms.
One Day Before Your Party
The day before the party have rental tables and chairs delivered to your home. Set the tables with tablecloths and dinnerware. If you are cooking for this affair, purchase fresh ingredients and prepare anything on the menu in advance. If you are having a caterer and server, confirm the details of the party such as location and the time that they should arrive. Call the florist and have floral arrangements that you have ordered delivered. If you are making the centerpieces, this is the time to start making them.
Few Hours Before the Party
The clock is counting down to the big event. Decorate the venue with party decorations. Hang streamers, garland and twinkling lights on the walls. Set the centerpieces on the table. Set place cards on the table. Take a look at the party room and notice if anything is missing. Set out a platter of appetizers and snacks that won't spoil at room temperature. Cover the platter with plastic wrap so that food stays fresh. Finish cooking any last-minute dishes.
The Last Hour
Run a last check in the bathroom and make sure it is clean. Leave an extra roll of toilet tissue in an accessible place. Place a fresh hand towel on the rack along with a stack of paper towels near the sink. Spray a room freshener. Check the temperature of the room and lower the thermostat so guests aren't hot. Keep food warm by pouring hot water into the warming pans. Place a dish of butter along with salt and pepper shakers for your guests to use. Turn on music. Freshen your makeup. Light candles and dim the lights.
References
Photo Credits
Jupiterimages/Brand X Pictures/Getty Images