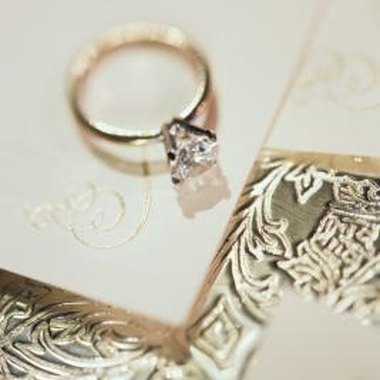 An engagement party is a great way to celebrate a couple's first step toward marriage and to bring their friends and families together. Traditionally, the bride's family throws the engagement bash but don't let tradition get in the way of the wedding and engagement party of the couple's dreams. There are many things to consider when planning an engagement party, whether it is hosted by the couple themselves, a friend or a family member.
Budget
After deciding to throw an engagement party -- and ensuring that no one else is planning a bash in the couple's honor -- set a budget for the party. Take into account what you can afford to spend and what any other friends or family members will contribute. Food, drinks and a venue can add up quickly as you add guests, so consider the budget while establishing the guest list. Other expenses that may come up include entertainment and decorations.
Location and Date
Once you know what you can afford to spend, select a location and date for the event. An engagement party can be held anywhere that suits your budget and the couple's tastes and should be scheduled within two months of the engagement. Some opt to throw a backyard barbecue while others host a posh dinner at a high-end restaurant. Discuss with the couple what they are most comfortable with before setting a date and picking a location and be sure it fits comfortably within your budget.
Invitations
Establish a guest list with input and approval from the couple. The guest list can include anyone, from family and friends to old roommates and coworkers, but it is extremely important to get the couple's blessing on the list, since you don't want an unwelcome guest marring the festivities. Also, etiquette dictates that anyone invited to the engagement party will ultimately be invited to the wedding. Once the list is set, send out invitations at least two weeks in advance.
Theme and Decorations
Pick a theme that suits the mood you hope to achieve with the party and decide on decorations and other fun touches. This theme should include the couple's interests but can be anything from romantic to funky. You can go with something classic, like hearts and photos of the couple when they were young, or quirky, like highlighting some of the couple's favorite memories with different-themed tables. If your budget is tight, save money by making decorations yourself and get started early to avoid a last-minute crunch.
Food and Fun
Decide on what to feed all of these guests. If you selected a restaurant for your venue, you are likely locked in to having them provide the food. Backyard or hall parties can be catered or you can ask friends and family to bring a dish to pass. Remember to secure tables and chairs for the party if you are hosting the party at home. Also, you can opt to bring in a band or a DJ to get the party going as the evening goes on. Be sure to hire caterers and entertainment well in advance.
Celebrate
The day of the party is all about bringing together any remaining details and then having fun. The morning of the party, confirm that any hired services will be arriving on time and put any last-minute touches on the venue. Try to delegate tasks, like setting up the food table or transporting the decorations, to other friends and family so the party can start smoothly and you can enjoy yourself too.
Photo Credits
Comstock/Comstock/Getty Images