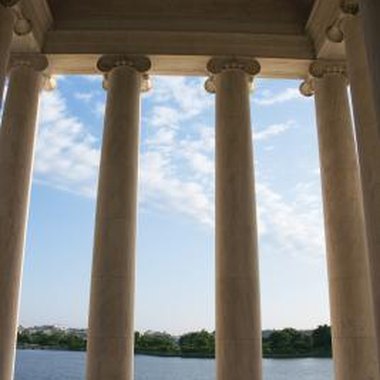 The Potomac River flows from Harper's Ferry, West Virginia, south through Maryland and Virginia, and empties into the Chesapeake Bay at Point Lookout in Maryland. In the Washington, D.C., area, the Potomac River forms the border between the city and Virginia on one side, Virginia and Maryland on the other side. Washington is the only major city with river access and, therefore, the vast majority of river cruises leave from docks in this area. Prices of these cruises vary by cruise operator and by year.
Monuments Cruises
Many of Washington famous monuments -- the Lincoln Memorial and the Jefferson Memorial, to name just two -- sit along the Potomac River. Tour companies such as DC Cruises (dc-cruises.com), Odyssey Cruises (odysseycruises.com) that operate tours of the Potomac River often offer what are known as "monuments cruises" or "monuments tours" at specific times of the day. These tours usually last approximately 90 minutes and cruise past these monuments. Tours also occur at sunset, also known as "happy hour cruises," or after dark, sometimes referred to as a "nighttime cruise" or a "monuments by moonlight" cruise.
Dinner Cruises
Other tour operators offer dinner cruises on the river after dark. These cruises begin by sailing past several city monuments, allowing cruisers to enjoy them from the river by night. After this portion, the dinner begins. Menus vary by cruise operator and by year. Many of these boats have dance floors and offer dancing after dinner. Odyssey Cruises (odysseycruises.com) and Spirit of Washington (spiritofwashington.com) offer such dinner cruises.
Fireworks Cruises
Every Fourth of July, Washington holds an event known as "A Capitol Fourth." This event is held on a stage constructed on the Washington Monument end of the National Mall, adjacent to the Potomac River. DC Cruises (dc-cruises.com) has cruises on the Fourth of July that leave from the Washington Marina and cruise past several city landmarks before taking position within view of the fireworks and allowing cruisers to watch the show from the river.
Cherry Blossom Cruises
The annual blooming of the cherry blossom trees around the Tidal Basin is another uniquely Washington event. Cherry blossoms begin to bloom in the early spring, and peak cherry blossom time is usually the last weekend in March or the first weekend in April. Accordingly, DC Cruises (dc-cruises.com) often also offers cherry blossom cruises of the Potomac River. These tours last approximately 30 minutes and leave from the docks near the Jefferson Memorial and circle around the cherry blossom trees, allowing cruisers a view.
Photo Credits
Thinkstock/Comstock/Getty Images