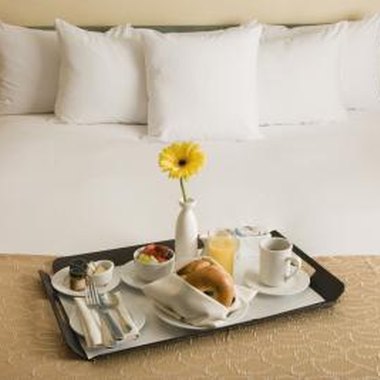 Hotels with suites in Portland, Oregon, offer visitors some extra room without losing the charm or personality for which accommodations in the city are known. While Portland has all of the established suite chains, they also play host to a handful of suite hotels that are notable for their commitment to their identity as institutions of the Northwest.
Hotel Fifty
Hotel Fifty is one of several Portland area hotels that is the result of a major renovation of an existing establishment. Situated along Portland's waterfront and near the light-rail system (called the Max), visitors benefit from being within close proximity to a number of Portland's best restaurants, bars and stores. Hotel Fifty features one-bedroom suites that come complete with a dining area and L-shaped sectional couch, one television in the parlor and another in the bedroom, and a desk with an ergonomic chair. H5O bistro and bar is located on the ground level of Hotel Fifty, serving simple, classic foods with an emphasis on local and organically grown ingredients. Along with other independently owned hotels, Hotel Fifty participates in Stash Hotel Rewards so that guests can earn points toward free hotel stays.
Hotel Monaco
Hotel Monaco is a luxury boutique hotel in downtown Portland that boasts an eclectic collection of artwork by artists from the Northwest, and has been featured as one of Travel + Leisure magazine's "World's Best Values," and Conde Nast Traveler's "Reader's Choice Top 100 in the World." The hotel features two classes of suites: one-bedroom and grand. The one-bedroom suites include a separate sitting area with a couch and a large dining table (which can also be used as a writing desk). Travel + Leisure magazine recommends staying in one of the four 850-square-foot grand suites, which they describe as "über-cushy, with two-person jetted Fuji tubs, wet bars, and dazzling skyline views." In-room spa services, an on-site workout space and the "Portland Unleashed Pet Package" (complete with a doggie makeover, doggie beer and a map of pet-friendly establishments) set Hotel Monaco apart from other hotels. Hotel Monaco has also received the Green Seal Silver Certification for its environmentally friendly practices.
Park Lane Suites
The Park Lane Suites and Inn sits just between PGE Park and the Japanese Rose Garden, and within walking distance of the city's Pearl District. The hotel offers simple accommodations with studio, one-bedroom and two-bedroom suites with cherry wood furniture, and full kitchens with honey maple cabinets. Guests can take advantage of a complimentary continental breakfast each morning and coffee throughout the day. Lonely Planet calls Park Lane Suites a "business-friendly property."
Heathman Hotel
The Heathman Hotel wraps guests up in comfort and style while staying true to Portland's commitment to environmentally friendly practices. New York Times journalist Jennifer Margulis mentions that the Heathman tea court's fashionable teal couches are made from rubber tree sap and soy-based foam. The hotel's general manager, Chris Erickson, points out that their dedication to eco-friendly practices was instilled in every decision of the 2009 remodel, from using sustainable wood, using recycled tile and making the entire renovation 99-percent landfill free. The cushy suites come with three different mattress choices for guests: European featherbed, European pillowtop and Tempur-Pedic, and separate sleeping and living areas. The hotel's restaurant is run by chef Philippe Boulot, who is a James Beard award recipient. The hotel also houses original works of art by Andy Warhol, and each room features a piece of artwork by an artist from the Northwest.
Photo Credits
Thinkstock Images/Comstock/Getty Images