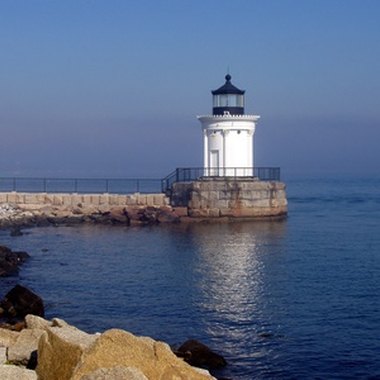 Once a rustic Oregon Territory outpost and busy stopover destination for Alaskan gold rush adventurers, modern Portland welcomes travelers with a hip downtown scene, green-friendly vibes and bushels of beer pubs, coffee houses and open-mike nights for earnest poets and musicians. Together with the city's port, the bustling airport generated $4 billion in revenues for the region in 2007. Portland business and leisure travelers can stay at hotels and motels near the airport for convenient access.
Business Friendly
Business travelers can hop on the city's light rail system near The Red Lion Hotel Portland for easy access to downtown Portland and the Expo Center. Wireless Internet and a full-service business center make working from the hotel a snap. Complimentary airport transportation, on-site fitness center and outdoor pool round out the picture. On-site restaurants and a sports lounge provide informal meeting places for chats with colleagues and clients.
Family Friendly
Portland's zoo, children's museums and numerous child-friendly bookstore make it an ideal vacation destination for families. At the Portland Holiday Inn, kids under 19 stay free with parents, and children under 12 eat free. Healthy kids menus incorporate lean protein, fresh fruits and vegetables. In some circumstances, the hotel will reimburse families who've paid extra at the airport for exceeding the weight limit on suitcases bulging with diapers, kids toys and baby bottles. There's an indoor pool, suites available for families wanting the extra room and the airport nearby makes it easier to transport everybody back to the check-in counter.
Extended Stay
Portland visitors planning an extended stay can book rooms at Candlewood Suites Hotel Portland Airport. There's a shopping center within walking distance to buy groceries and other necessary items, and free shuttles transport guests to locations within 2.5 miles of the hotel. A round-the-clock fitness center, on-site laundry facilities and free DVD lending library make the day run smoother. The hotel offers grocery shopping services, and guests can opt to grill their dinner beneath the gazebo outside. Some rooms come equipped with stocked kitchens; free newspapers are delivered daily.
Budget Friendly
Located three miles from the Portland airport and six miles from downtown Portland, the Portland Airport Travelodge offers lower rates but charges extra for pets and shuttle transportation. Free perks at this motel-style accommodation include parking (including parking for buses, RVs and big trucks), daily newspapers, wireless Internet and continental breakfast. Guests can enjoy a seasonal outdoor pool and on-site exercise room. Nearby inexpensive restaurants include Subway Sandwiches, Applebee's Neighborhood Grill and Elmer's Pancake and Steakhouse.
Photo Credits
portland bug light image by Mary Beth Granger from Fotolia.com