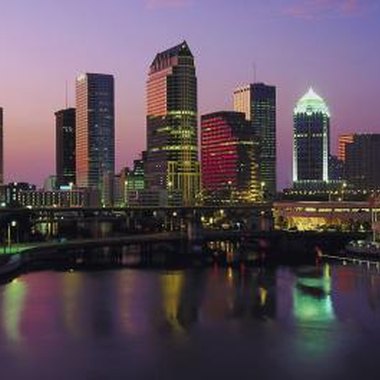 The Port of Tampa is the largest port in the state of Florida. Cruise ships and endless streams of freighters loaded with containers pass in and out of the bay daily, and many people come to the city for business and pleasure related to this shipping center. For those who need overnight accommodations, Tampa has several hotels within a short drive of the port.
Hilton Garden Inn Tampa/Ybor
Located near the center of historic Ybor City and a short drive from the Port of Tampa, the Hilton Garden Inn is a beautifully landscaped hotel that offers complimentary shuttle service throughout downtown Tampa and to the Port of Tampa. Guests here can expect spacious rooms with king- or queen-size beds, sitting area with chairs and ottoman as well as extras that include refrigerator, microwave and premium cable television. The hotel features a swimming pool, fitness center, lobby bar and restaurant.
Tampa Marriott Waterside
The Tampa Marriott Waterside is a luxury hotel located just off Channelside Drive in the waterfront section of downtown Tampa. This is the entertainment district of the city near lots of dining, museums, galleries, historic sites and nightlife. The hotel is located adjacent to the St. Pete Times Forum and is located about four city blocks from the Port of Tampa. The hotel is 27 stories tall, has 683 guest rooms as well as 36 luxury suites. Those driving into town may have their car valet parked for a fee. Rooms are equipped with Web TV, down pillows and comforters, premium cable television and a wet bar. The hotel features a concierge desk, room service, three bars, two restaurants, spa, pool and fitness facility.
Westin Tampa Harbour Island
The Westin Tampa Harbour Island Resort is a luxury hotel located right on Tampa Bay. This location allows guests here to see the ships roll in and out of the bay right from the guest room windows while enjoying an unobstructed west Florida sunset each evening. Guest rooms at the Westin Tampa Harbour Island feature the hotel chain's exclusive upscale in large rooms outfitted with a refreshment center, work desk, ergonomic chair, movie catalog, separate bath and shower stalls and refrigeratorse The hotel has two dining options, including the elegant 725 South Restaurant and a cocktail lounge. There is also a private pool and a ballroom on site.
Hyatt Regency Tampa
The Hyatt Regency Tampa is a luxury hotel near the waterfront downtown, just a short distance from the Port of Tampa. This hotel was designed for those who take relaxation seriously. The hotel features a sundeck on the roof where guests can escape to quiet surroundings and take a soak in the whirlpool. A heated outdoor pool is ready for use any time of the year, and a state-of-the-art fitness facility is complimentary for all guests. Those who prefer to stay fit in private can take advantage of YogaAway, which is exercise equipment for personal use in the rooms. The hotel also has a fine dining restaurant and a five-story atrium filled with tropical plants. The guest rooms at the Hyatt are exceptionally clean and are treated with a six-step process to filter out airborne contaminants that could cause problems for allergy sufferers. The hypoallergenic rooms are also equipped with 37-inch flat screen televisions, on-demand videos, iPod docking stations, individual climate control and wireless Internet access.
Photo Credits
Ablestock.com/AbleStock.com/Getty Images