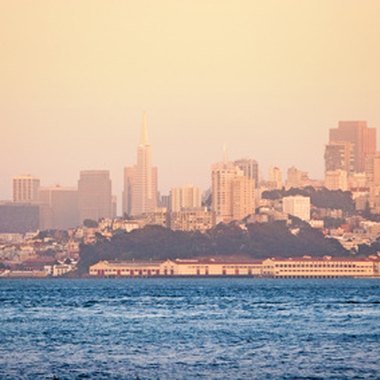 One of the most visited cities in the world, San Francisco offers lodging choices from super-cheap hostels to four-star luxury accommodation, and located everywhere from the ultra-touristy Fisherman's Wharf to the slightly more sedate Ocean Beach. When it comes to choosing a hotel, several seem to rise above the rest and achieve an enviable status of popularity among online travel sites and visitor guides.
Boutique Hotels
Boutique hotels have garnered a certain level of esteem over recent years for being more intimate, sometimes slightly quirky and fit in somewhere between a bed and breakfast and a standard lodging in the personal service category. Several boutique hotels have sprung up around the Union Square District, including the Hotel California and The Orchard Hotel, attracting a following in this well known shopping area along a cable car line. Another boutique, The Hotel Griffon, located on the Embarcadero Waterfront, was voted "Best Boutique Hotel" by "San Francisco Magazine."
Bargain Hotels
According to travel services company HRG, average prices in the San Francisco hotel market actually dropped 11 percent in June of 2010. Noting a nightly room rate of $219.65, these prices fell below rates in New York, Washington D.C., Boston and Los Angeles. That can still be a hefty price tag when combined with a three or four night stay. Several bargain hotels in San Francisco have achieved popular status due to a reasonable price tag along with cleanliness and service. These include the Handlery Union Square, the Marina Inn at Fisherman's Wharf, the Hotel Whitcomb in the SoMa district and La Luna Inn near the Presidio. Prices at these lodgings ranged from $80 to $129 per night in November of 2010.
Luxury and Landmark
Pairing your vacation to San Francisco with one of the many distinguished hotels the city enhances an already special trip. The Mark Hopkins, a four-star hotel on Nob Hill has been open since 1926 and houses the retro-cool Top of the Mark lounge with its 360-degree view of the bay, top-flight jazz entertainment and a 100 martini menu. The luxurious Fairmont opened in 1907, delayed by one-year due to the devastating earthquake of 1906. The hotel's lounge, The Venetian Room also made a name for itself as the first place Tony Bennett sang "I Left My Heart In San Francisco." Other notable luxury San Francisco hotels include the Argonaut, the Westin Saint Francis, Hotel Nikko and the Palace Hotel.
Kid-Friendly
A kid-friendly town deserves a host of like-minded hotels. Fortunately, San Francisco also hosts several lodgings that cater to a family-style vacation. Fodor's mentions the Hotel Del Sol in their kid-friendly list due to its "proximity to Funston Playground...free toys, games...and evening cookies and milk." The Seal Rock Inn also gets marks for being within walking distance of Ocean Beach, a Ping-Pong table, badminton court and rooms with "accordion-style" dividing doors. Frommers notes the Hotel Diva for their "Little Divas Suite designed for kids," and the Stanyan Park Hotel for being a short walk from Golden Gate Park's Children Playground and suites that include a full-kitchen.