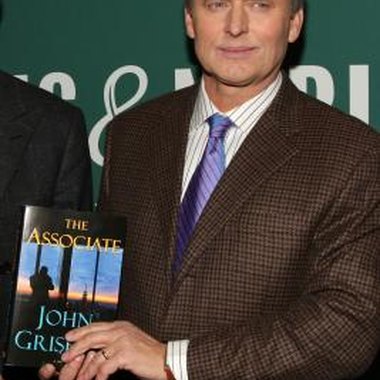 "The Runaway Jury" by John Grisham is a courtroom drama novel, one of many that the former attorney has written over his career. Hollywood director Gary Fleder also adapted the book into a movie in 2003, starring John Cusack, Gene Hackman and Dustin Hoffman. It might come as a surprise to those who have seen the movie to learn the plot is somewhat different in the novel.
Taking on Big Tobacco
The biggest change between the movie and the John Grisham novel is the villain. In the book it is the tobacco industry, while it is the gun industry in the movie. The tort lawyers in the novel represent a woman whose husband died of lung cancer. The legal team aims the multimillion-dollar lawsuit against a major tobacco company and the battle begins. Both sides attempt to manipulate the jury into seeing the law through their eyes.
The Man Behind the Curtain
What neither side knows is that a man has planted himself on the jury, hoping to sway the trial. This man, played in the movie by Jon Cusack, begins to plot and manipulate other jurors in an attempt to lead the verdict against the tobacco companies. By the end of the novel, the story reveals that this man has been trying to get on a jury for years and is not there to help the woman but to hurt Big Tobacco.
The Manipulator
Big Tobacco holds an advantage in most cases they face thanks to a man named Rankin Fitch. Fitch works as a consultant for the industry, hiding cameras throughout the courtroom, getting information to help the defendants win their cases. He also sets out to illegally maneuver the trial through blackmail, threats and other underhanded schemes. The big competition in the novel is between the Big Tobacco man on the outside and the mole who infiltrated the inside against him.
Spoilers: The Resolution
A mysterious woman named Marlee approaches Fitch and offers the services of the mole on the jury to buy the case. When he agrees, Fitch discovers too late that the woman has a vendetta against Big Tobacco following the death of her parents. Marlee and the mole invest the payoff money into Big Tobacco and, when the stock prices rise after a positive verdict is expected, the two quickly sell for a profit. They then sway the jury to rule against Big Tobacco. The two used the consultant's backhanded deals against him and punished the corporation financially both with the verdict and on the stock market.
References
Photo Credits
Bryan Bedder/Getty Images Entertainment/Getty Images