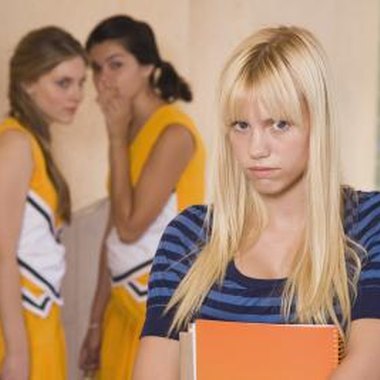 "Mean Girls" is a comedy released in 2004 by Paramount Pictures. Starring Lindsay Lohan, Tina Fey and Rachel McAdams, the film received good reviews, especially for its sharp screenplay, written by Fey. Directed by Mark Waters, the movie deals with the pecking order among high school girls and how to navigate those tricky waters.
New School
Linsday Lohan plays Cady Heron, a 16-year-old who has been homeschooled by her zoologist parents and has spent most of her life living in Africa. But when the family moves to Evanston, Illinois, Cady must begin to attend public school for the first time in her life. She immediately falls in with outcasts Damien and Janis, who begin Cady's education on the different cliques that occupy the high school, among them the elite group of girls known as The Plastics.
Mean Girls
The Plastics is headed by Regina George (Rachel McAdams), a nasty girl who once was friends with Janis but then sunk her reputation by starting a rumor she was a lesbian. Soon enough, the Plastics welcome Cady into the fold and Janis begins to plot revenge against Regina, working with Cady to take her down. But when Cady falls in love with Regina's ex-boyfriend Aaron, Regina jealously steals him back from her, giving Cady a reason to follow through with Janis' revenge plot.
Revenge
As Cady and Janis try to take down Regina, Cady begins to turn into another version of Regina. She becomes very popular, but just as mean as Regina, and she ditches Damien and Janis in favor of her new friends. She soon ousts Regina from the Plastics and has unwittingly taken her place as the clique's leader. Now that Cady has alienated everyone, it is only a matter of time before Regina, and her old friends, strike back.
Reception
"Mean Girls" received very good reviews, especially for Fey's screenplay, and grossed more than $86 million, according to Box Office Mojo. Andrew Sarris of the "New York Observer" called it, "A teen movie I enjoyed enormously, much to my surprise," and Stephanie Zacharek of Salon.com said, "Mean Girls isn't a particularly deep picture, but it does have some weight and ballast." Not everyone loved the movie, however. J.R. Jones of the "Chicago Reader" claimed it "lacks the genuine bile that made 'Heathers' so bracing."
Photo Credits
Jupiterimages/Brand X Pictures/Getty Images