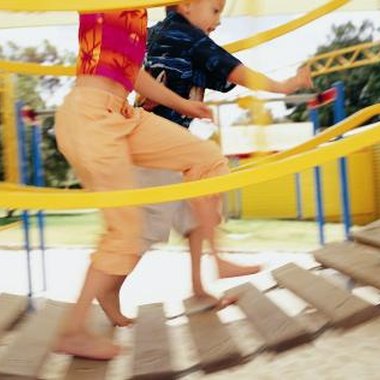 Swings, slides, monkey bars and seesaws are a few playground staples. But today's children have equipment that spurs the imagination. Rope bridges, ships, climbing towers and slides that curve and loop are just some of the popular items found on modern playgrounds. In Burlington, Massachusetts, there are a wide range of playground locations for children to let their imaginations soar.
Simonds Park
Simonds Park, located on Bedford Rd., is one of the bigger parks in Burlington. Besides a playground, the park also contains two baseball fields, two tennis courts, two basketball courts, a street hockey court, a skate park and a wading pool. The park also offers picnic areas, a concession stand and restrooms.
Rahanis Park
Rahanis Park is located at Mill Street and Patriot Road. Along with its playground, the park also offers two large fields, six tennis courts, two softball fields, a sand volleyball court and a tennis court. Rahanis Park has both a picnic area and restrooms at its location.
Other Parks
Burlington offers several neighborhood parks with playgrounds. Regan Park, located at Country Road and Sumpster Street, has a playground, a baseball field and a basketball court. TRW Park, at Mall Road and Stoney Brook Road, offers a playground, a large field, a baseball field and a walking trail. Children who live in the Wilmington Road area can visit the Veterans Park playground, which also has a basketball court and a softball field. Other playgrounds in town are located in Overlook Park on Edgemere Avenue and the Pathwoods Tot Lot on Pathwoods Avenue. Wildmere Playground is on Wildmere Avenue.
School Playgrounds
Children can also enjoy playgrounds located at the schools in their neighborhood. The Fox Hill School, located at Fox Hill and Westwood Street, has a playground, basketball court and softball field. The Pine Glen School also has a playground, basketball court and a large field. The school is located on Wilmington Road. Memorial School, on Winn Street, and the Francis Wyman School on Terrace Hall Avenue have playgrounds, baseball fields and large fields.
Photo Credits
Digital Vision./Digital Vision/Getty Images