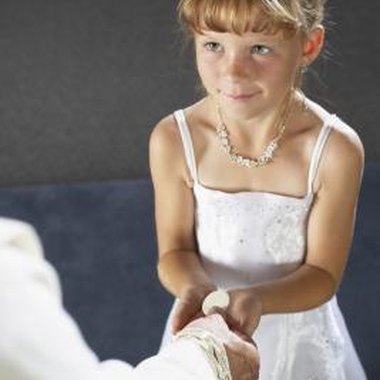 First Holy Communion is one of the most important religious sacraments in the Roman Catholic Church. It symbolizes an individual consuming the body and blood of Jesus Christ for the first time. The importance of this day is often commemorated with a First Holy Communion party, which is a tasteful and serious celebration of a Catholic becoming more committed in his faith.
Venue
Several options are available for your holy communion party venue. The most common location is a building owned by the parish, such as its banquet hall. Having the party in your own home is another casual option. If you would like to incorporate the honorary guest's hobbies into the party, opt for a location that encompasses those hobbies, such as a ranch for the equestrian lover or a museum for a science enthusiast.
Invitations
Order invitations once you have established the time and date of the party. Most holy communion invitations are based around a religious theme and incorporate elements such as the cross, Bible verse, Precious Moments characters or the icon of a chalice and wafer. If you would like to make your invitations more personal, make your own. Include a religious symbol or a cross enclosure. Place a picture in the invitation, such as his baptismal photo, for an elegant touch. Send invitations to guests who care about his religious journey, like family members, church members and close friends.
Activities
Many people who take first communion are children, so your first communion party should include children's activities. Face-painting, balloon sculpting, art stations and coloring activities are all good options to entertain your younger guests. Other generations will also be present at the event, so include activities that appeal to all ages. Incorporate older music, make a slideshow presentation of the guest's journey thus far and plan other games, such as a religious trivia contest in which players of all ages participate.
Decorations
If your party will emphasize the religious aspect, use decorations that incorporate a religious theme. Religious pictures, crosses, balloons with crosses, religious statues, Bibles and framed quotes are all options that invoke the religious theme. If you selected a venue that lends itself to your child's hobbies, use the hobby for decoration inspiration. For example, if your venue will be at a local baseball park, include pictures of baseballs, posters of baseball players and pennants to help decorate the venue.
Food
Food is a crucial element of every party. You may want to cater the event to make it easier if you are having a large party. Plan on traditional adult dishes like beef or chicken and several common children's options, like chicken strips or pizza. Have a large religious-themed cake, such as one that looks like a Bible or includes an image of a chalice and wafer.
Photo Credits
Brand X Pictures/Brand X Pictures/Getty Images