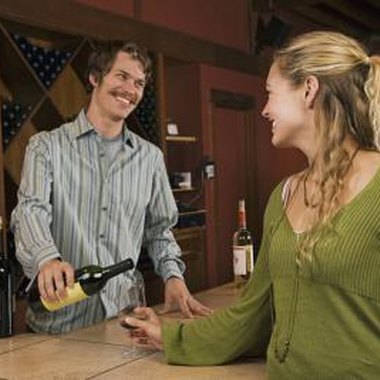 Europeans were first drawn to what is now southeastern Illinois in the late 1700s, making their way to this rugged part of the country via the Ohio River. Today, the hills of southern Illinois are home to some of the best local wines available. The Shawnee Hills region is the first region in Illinois to be acknowledged for its distinctive winemaking properties, receiving the American Viticultural Area designation. The winding route that encompasses Johnson, Saline, Pope and Williamson counties in the extreme southeastern part of the state is home to 12 active wineries.
Items you will need
Map of Shawnee Hills Wine Trail

Southern Illinois Visitor's Guides
Step

1
Choose a time of year to visit the Shawnee Hills wine region. Most of the wineries have limited or weekend-only hours from January through March. Blue Sky Vineyard, Rustle Hill Vineyard and Von Jakob are open seven days a week throughout the year.
Step

2
Make reservations for an overnight stay. Blue Sky Vineyard has two suites available for rent, Kite Hill has a B&B; that comes complete with a three-course breakfast; Rustle Hill offers cabins for rent. Or, you can reserve a room at a bed and breakfast, hotel or cabin in one of the small towns that dot the wine trail. The wine trail has grown over the past five years and can no longer be completed in one day. Most of the bed and breakfasts are booked well in advance, so prepare for your trip early to get your desired accommodations.
Step

3
Plan for food breaks. Blue Sky Vineyard offers a variety of sandwiches, pizza and snacks. Hedman Winery offers Swedish Cuisine in the Peach Barn Cafe. Star View Vineyards has a cafe menu that serves sandwiches daily. Von Jakob, nicknamed Little Germany, offers up grapevine smoked barbeque and German beef. Rustle Hill offers lunch, appetizers and dinner in its restaurant. If you prefer to eat in some place other than a winery, the Giant City Lodge in Makanda is open from 8 a.m. to 8 p.m. and is located in Giant City State Park, east of Carbondale. The Palace Pizzeria in Cobden and Bogey's Restaurant at Stone Creek Golf Course are in the Shawnee National Forest. The Blue Boar, south of Carbondale near the town of Anna, offers a full menu.
Step

4
Plan for additional entertainment along the trail. Blue Sky offers live music on the weekends, as does Owl Creek, Star View and Rustle Hill, which has an amphitheater for shows, concerts and dancing. Crossroads features three bandstands offering music, and a traveling art show monthly. Inheritance Valley, the smallest winery on the trail, offers movies on its deck. All the wineries are located within the Shawnee National Forest, and hiking trails are abundant.
Step

5
Try specialty wines. Each winery uses Shawnee-grown grapes for their varieties, and offer a wide variety of wines. Estate wines are made from grapes grown exclusively in each winery's own vineyard, so be on the lookout for those. Fruit flavors are added to the wines from the surrounding farms. Inheritance Valley Vineyards offers a cream sherry, and Pomona Vineyards specializes in wines made from locally grown fruits other than grapes. It is the only winery in the state making non-grape wines; it uses apples, blueberries, strawberries and peaches from local growers.
Step

6
Try a beer at the micro-breweries for something different. Von Jakob offers eight varieties of hand-crafted beers. Crossroads, the first winery in Union County, also has a micro-brewery.
Step

7
Step off the wine trail and enjoy the other many activities that abound in this region. Antiquing, hiking, Civil War history, cave exploring, boating, biking and festivals are just some of the other types of draws available.
Photo Credits
Jupiterimages/Brand X Pictures/Getty Images