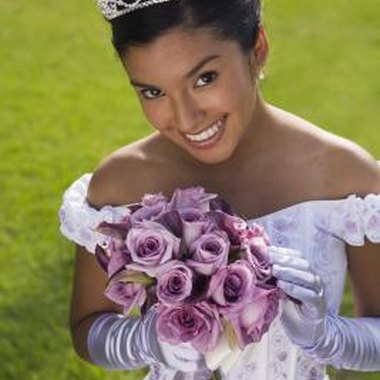 Mexican tradition holds that a girl's 15th birthday is the day she transitions from childhood to womanhood. The day is traditionally celebrated with a big party called a Quinceanera. The party is a very formal affair, sometimes a lot like a wedding. Almost as much planning goes into a Quinceanera as many brides put into their big day: cakes, centerpieces, photographers, bands or DJs, the perfect dress and the guest list are all important aspects of a Quinceanera. To throw your daughter the party she's always dreamed of in Mexico, take care of the basics and add your own personal touches to make your daughter's big day the one she's always dreamed of.
Step

1
Pick a date for the Quinceanera. Since the party is a celebration of your child's 15th birthday, plan the hold the party on or shortly before or after her birthday.
Step

2
Book a location for the party -- a banquet hall, hotel or other public space that can be rented out. Put down a deposit or pay for the location in full to secure the date. You can also use your home or the home of a friend or family member.
Step

3
Order invitations for the Quinceanera; indicate the date, time, location and formality of the event on the invitation so guests know exactly what to expect from the party.
Step

4
Get decorations. Order flowers, balloons, personalized napkins, place cards and table centerpieces for the party. Party stores in Mexico sell decorations for Quinceanera parties and florists can make floral arrangements and centerpieces to go with your vision using the flowers you choose. You need to order these things several weeks before the date of the event to give florists time to gather the flowers and work on the arrangements.
Step

5
Plan a menu. Speak with the caterer about how many guests you expect, whether you want a buffet-style meal or a sit-down dinner, and pick the foods you want included.
Step

6
Hire vendors. A band or DJ and a photographer are commonly needed when throwing a Quinceanera.
Step

7
Order a cake. Pick your child's favorite flavors and ask a baker to create the cake you want for the party. Decide whether you want fillings in each layer, how large the cake must be, whether you want fondant or buttercream icing and the colors in which you want the cake decorated.
Step

8
Take your child shopping for an outfit for the party. Traditionally, a formal gown is worn at a Quinceanera; it is a formal party.
Step

9
Make a hair appointment for the day of the party so your daughter can have her hair, makeup and nails done before her big day.
Photo Credits
Jupiterimages/Brand X Pictures/Getty Images