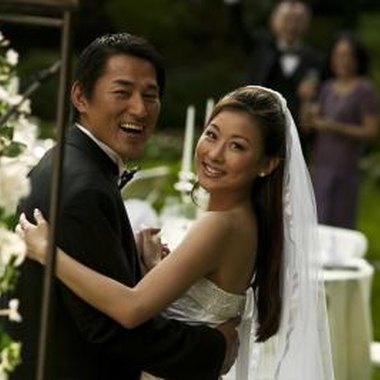 One of the most memorable days a couple will have is their wedding day. The location of the event, the type of ambiance it provides, the services offered and the price all help a couple determine the wedding reception site. Engaged couples who get married in Lancaster, Ohio have several different options and locations to choose from.
Geneva Hills
For the bride and groom looking for an outdoor wedding, surrounded by a nature, Geneva Hills offers 350 acres and a wedding chapel that holds up to 120 people. There's a lodge facility that can sleep 66 people in dorm style rooms, and an indoor reception area, complete with a commercial-style kitchen that can accommodate up to 150 guests. There's also a small family cabin located close to the lodge that can be used as a dressing room and wedding night retreat.
Makoy Center
The Makoy Center, decorated in 1920s Art Deco, offers couples three different size banquet rooms. Each room has a large dance floor and separate entrances, foyers, restrooms and bars. Menu options include buffet, plated and hors d'oeuvres. Bar options include cash, open or a combination of both. Makoy also offers wedding cake services. Ceremonies can be held right on the location or for those couples planning an outdoor ceremony, Homestead Park is nearby. The facility offers free unlimited parking for guests.
Cheers and Lakeside Chalets
Cheers and Lakeside Chalet's forte includes garden wedding ceremonies, receptions and rehearsal dinners. The venue offers two different gazebo locations, including one overlooking a lake, as well as a chapel in the woods that also overlooks a lake. Couples can choose horse drawn carriages, chocolate fountains, chair covers, table toppers and ice sculptures to enhance their weddings. The facility also offers on-site catering.
Henry Manor
The Henry Manor, a Tuscon-Victorian style vintage inn located on 10 acres of beautiful grounds, provides both on- and off-site catering, reception venues and overnight accommodations. The manor has both gardens and a gazebo to host outdoor ceremonies for up to 150 guests and also provides dressing rooms for the bride and her bridal party.
Little Brook Meadows
Little Brook Meadows sits on 50 acres and provides both a lodge and large barn for weddings, depending on the style of wedding the bride and groom are looking for. Both buildings are available to rent for several hours, or up to several days, offering a location where the rehearsal dinner, ceremony and reception can all be held. The lodge also can accommodate up to 20 overnight guests.
Photo Credits
Comstock Images/Comstock/Getty Images