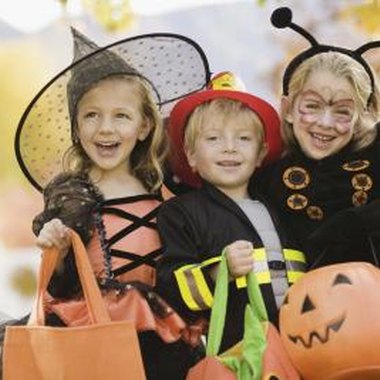 Dressing up in amusing costumes and asking for sweet treats around a neighborhood is what most children look forward to on Halloween night. However, a neighborhood is not the only place offering candy and an enjoyable scare. Other places in your community or town entertain trick-or-treaters of all ages. Schools and churches often hold Halloween festivals or offer trunk-or-treat fun. Many theme parks and zoos also provide Halloween fun for children of all ages. Of course, parents should always accompany their children and stay with them at all times during these outings.
Local Mall
Malls are an enjoyable place to go trick-or-treating on Halloween night. Younger kids can trick-or-treat between the late afternoon and early evening hours at stores inside the mall that offer candy. Halloween costume contests may be presented in the courtyard areas of the mall during the afternoon to present guests with creative Halloween costumes treats and prizes. Shop attendants may dress up in imaginative costumes on Halloween night as well to welcome trick-or-treaters who seek sweets or goody bags. Check your local mall for information.
Community Centers, Churches, and Schools
Community centers, churches, and schools often offer safe and pleasant trick-or-treating activities for families with small children on Halloween night. Games, food and goody bags are often available to those in attendance. Some churches offer trunk-or-treating; children go from parked car to parked car in the church parking lot and receive treats. Schools may host a Halloween carnival as a fundraiser; activities will be offered for a nominal fee. You and your children can have fun and contribute to your local school at the same time. Check with your local community center, churches and schools for details.
Affluent Communities
Affluent communities are often the most elaborately decorated neighborhoods during the Halloween season. Trick-or-treaters enjoy brand name candies given out by residents as well as the view of creative homes filled with fake cobwebs and skeletons. However, candy is not the only treat given to trick-or-treaters in such communities on Halloween night. Small bags of change may also be given to trick-or-treaters in lieu of candy.
Theme Parks and Zoos
Theme parks entertain guests throughout the year with live performances, animals and rides, and they usually offer additional entertaining activities on Halloween. The entire theme park may be open, but some theme parks open only the rides that cater to younger children. Trick-or-treating and Halloween activities at theme parks and zoos are often held during the weekends or weekend closer to Halloween so that school-age children can attend.
Photo Credits
Jupiterimages/Brand X Pictures/Getty Images