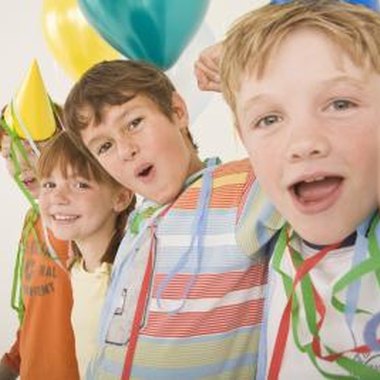 For kids in Lake Jackson, Texas, whether their birthday is in June or December, celebrating a birthday means warm weather and lots of options for outdoor and indoor birthday parties. Lake Jackson is only 15 miles from the coast of the Gulf of Mexico and 50 miles southwest of Galveston, offering numerous options for kids' birthday venues in the area to fit the interests of kids of all ages.
Restaurants
Hosting your child's birthday party at a Lake Jackson restaurant can simplify the planning process and make for a happy birthday boy or girl. Most restaurant parties include food, snacks and/or the birthday cake and ice cream as part of a package price, taking the pressure off the parents to cook. In Lake Jackson, several restaurants offer a great place to throw a kids party and special birthday packages. Chuck E. Cheese (chuckecheese.com) specializes in kid's birthday fun with packages that include arcade and video game tokens, pizza, cake and ice cream. Luby's (lubys.com), a local cafeteria-style eating franchise, offers private birthday parties for 10 or more kids that includes a free birthday cake.
Educational Venues
For those kids who love to learn and be educated, an educational-themed birthday party cannot only be informative but also fun. The Sea Center Texas (tpwd.state.tx.us) educational center features an aquarium, fish hatchery, outdoor wetland exhibit, youth fishing pond, private group tours and story time for youth, creating an exciting setting for a birthday party. Although no food is available on-site, the center has a picnic area where the birthday guests can enjoy a snack or cake after exploring. Another option for an educational party is the Brazosport Planetarium (bcfas.org) that runs planet and star viewings, along with short films. At the time of publication, special rates are available for large groups starting at $3 per child, along with private group shows.
Recreational
Sometimes kids just want to let loose during their birthday party. Lake Jackson has several recreation venues where families can host a birthday party. The Lake Jackson Parks and Rec Department runs more than a dozen city parks with playgrounds and picnic tables where kids can play and then enjoy a birthday snack and cake. Most of the park facilities can be used for free. Madge Griffith Park also includes an outdoor pool for a swimming pool party. Other options include Bowl Texas (no website; 125 FM 2004 Road, Lake Jackson; 979-265-4151) for a bowling party or Skating America (no website; 1219 Highway 332, Clute; 979-265-1426) for a skate or rollerblading party.
Miscellaneous
For a one-of-kind birthday party, consider hosting at the Starplex Cinemas (starplexcinemas.com) in Lake Jackson and treat the birthday boy and his guests to a current attraction. At the time of publication, the Starplex Cinemas rolls out the proverbial red carpet and offers several birthday party packages starting at $200 that includes rental of an entire auditorium and movie snacks for each guest. The theater also offers space in each auditorium where the birthday guests can enjoy cake and ice cream and open gifts.
Photo Credits
Jupiterimages/Goodshoot/Getty Images