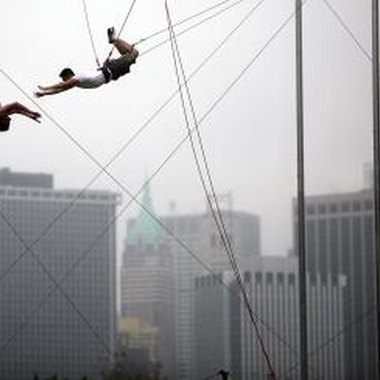 A sweet 16 party is an occasion that celebrates a teen's 16th birthday. This birthday may be considered a right of passage for many teenagers. Cities around the state of New York have different venues that allow the guest of honor to celebrate at sweet 16 party with friends and family.
New York City
Trapeze School New York (newyork.trapezeschool.com) offers a unique opportunity to celebrate a sweet 16 party. The party package includes a two-hour trapeze class and private party area. In addition to learning how to fly on a trapeze, other party activities include trampoline jumping, hula hooping, acrobatic yoga and silks. The Awesome 80's Prom (awesome80sprom.com) is an interactive Off-Broadway show and dance experience that takes place at Webster Hall in the East Village of Manhattan. Opportunities are available to sing hits from the 1980s, and each show crowns a prom king and queen. The venue offers a variety of sweet 16 party options, including a limo, spa packages and pre-prom restaurant reservations.
Rochester
The Green Lantern Inn (greenlanterninn.com) is a full-service restaurant and banquet facility that has been operating for over 125 years, as of 2011. Three different rooms are available for a sweet 16 party, including the Deland Room, the Candelight Room and the Oak Room. The Deland Room and the Candlelight Room are for dinners, while the Oak Room features a dance hall. The Whittier Party House (whittierpartyhouse.com) offers both indoor and outdoor party areas for sweet 16 parties. While indoor parties include a full china, silverware and glassware table setting, the outdoor area offers parties a chance to celebrate with a picnic.
Albany
The Polish Community Center (albanypcc.com) is available for banquets, weddings and events, including sweet 16 parties. The ballroom accommodates up to 70 individuals for a sweet 16 party, and numerous menu items are available. Menu items include beef, chicken and fish entrees; hot hors d'oeuvres, such as egg rolls, quesadilla rolls, a liver pate and swedish meatballs; and a picnic lunch that include hamburgers, BBQ chicken and hot dogs. The Longfellows Hotel (longfellows.com) offers catering and events for sweet 16 birthday parties, and young woman have the option of choosing from a variety of themes, including Hawaiian or beach party. Party goers wear grass skirts, lei's and play Ukuleles. Food options include grilled filet Mignon or yellow tail sole with a number of side options.
Buffalo
Protocol (protocolrestaurant.com) has been hosting events and parties in the Buffalo area since 1971. Sweet 16 parties have the option of choosing to have their party outside or inside. Menu items include chicken, steak, salmon, roast turkey and lobster tail. Kotecki's Grandview Grove (koteckis.com) has both indoor and outdoor areas that work for any type of event or party, including a sweet 16 party. Parties may to celebrate indoors with white glove service and linens or in the outdoor covered picnic area.
Photo Credits
Mario Tama/Getty Images News/Getty Images