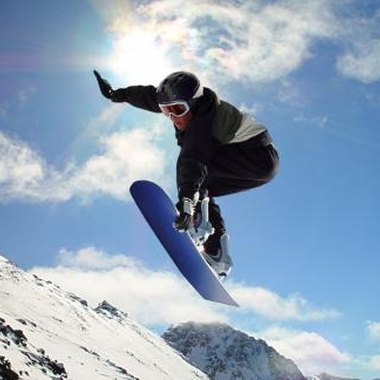 As it is set to be the first country to host the World Snowboarding Championships in 2012, it is little surprise that Norway's ski resorts have invested time and money in terrain parks in order to give snowboarders the best experience possible. The parks contain elements to challenge snowboarders of all levels of experience and most resorts also have separate parks for children. The skiing season in Norway runs from November until the end of April.
Geilo
The ski resort of Geilo is located in the valley of Hallingdal, north east of Oslo. It is a family-friendly resort with 40 slopes for skiing and three terrain parks for snowboarders, which include a super pipe of international standards, rails and big jumps. Geilo also boasts a park specifically for children, including a half-pipe, jumps, box rails and a fun box. The resort offers range of accommodations and dining options, including the traditional restaurant Hallingstuene, which serves food by the well-known Norwegian TV-chef Frode Aga.
Hemsedal
Located in the mountains halfway between Oslo and Bergen, Hemsedal is a popular resort due to the stable snow conditions between November and May. It is a resort for all levels of ability and is also the most photographed resort by the snowboarding press, as it has hosted a number of major snowboarding events. The resort includes one of the best parks in Europe as well as 25 miles of piste for freeriders. Accommodation is available either by the slopes or in the main town two miles away.
Oslo Winter Park Tryvann
Located 30 minutes from downtown Oslo the Winter Park plays host to the World Snowboarding Championships and its terrain contains elements to challenge all levels of snowboarders. Tryvann has one of the largest snowboarding parks in Norway, and includes about 24 rails, 23 jumps and a halfpipe, all arranged over two primary slopes. A powerful snow cannon helps ensure snow from the beginning of December until April. The resort is easily accessible from Oslo by train, tram, bus or car.
Hafjell
The Hafjell Alpine Centre is located nine miles from Lillehammer and was built for the Winter Olympics in 1994. The snow conditions are good throughout the winter season, from November to April. The Hafjell Park was designed by experts to offer everything a snowboarding enthusiast wants, with 15 jumps, six rails, a wall ride, a mini pipe and a half-pipe. Being located so near to Lillehammer means there a wide range of accommodation options and a regular bus connects the resort to the city.
Photo Credits
Thinkstock/Comstock/Getty Images