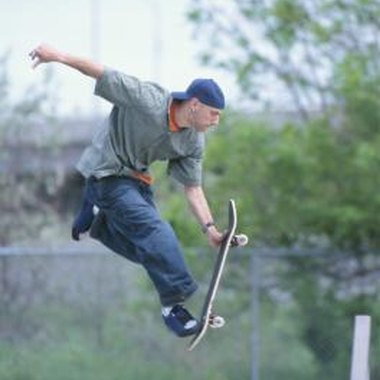 Skateboarding has become a popular sport, especially with inner city teenage boys. Skateboarding has a history dating back to the early 1900s, when skateboards were made of milk crates and two-by-fours. Eventually skateboards evolved into sleeker forms. By 1965, more than 50 million skateboards were sold. The sport went out of style but got another boost in popularity in the 1990s, when ESPN2 hosted skateboarding exhibitions. There are many skateboard parks in Wichita, Kansas, available to skating enthusiasts.
Wichita Skatepark
Wichita Skatepark sits on one-fourth of an acre and was designed by California Skateparks. Skaters first tried out their boards at the grand opening in October 2005. The all-concrete skatepark is under an overpass in downtown Wichita. Two areas are available to skaters. The Bowl Area features three bowls; the deepest is 9.5 feet. Urban Landscape includes traditional equipment such as ramps, stairs, ledges and handrails. Picnic tables are also on the premises.
Orchard Park
Orchard Park houses the second skatepark opened by the city of Wichita. Many sponsors donated materials and labor to open the 40-by-66-foot skatepark, including Wichita Area Builders Association, Voegeli Concrete Construction and Wichita Independent Neighborhoods. The kids in the neighborhood also helped fund the project by selling T-shirts and holding car washes. The skatepark features many types of equipment, such as an 18-inch three-sided corner pyramid, 2-by-8-foot quarter pipe and 24-inch arch rail slide.
Edgemoor Park
Edgemoor skatepark was built in 2007 and is also called the Ryan Woodward Memorial Skatepark. The park is on the northeast side of Wichita at 5813 E. 9th Street. Concrete forms the base of the park and includes a seven foot metal half pipe. Metal grind rails are also provided.
North Branch YMCA Skate Park
The North Branch YMCA Skate Park is 10,000 square feet and provides a safe place for YMCA participants. The main feature of the park is a 3-by-7-foot-deep Key Hole Bowl. Different types of ramps and rails also await beginners as well as advanced skaters. The skatepark is open daily from 1 p.m. to 6 p.m. and YMCA members receive discounted admission to the park. Skaters are required to wear safety gear including helmets and pads. Spectators are not allowed inside the park.
References
Head Counselor City of Wichita Parks and Recreation: John Sidwell 316-688-9392
Photo Credits
Hemera Technologies/AbleStock.com/Getty Images