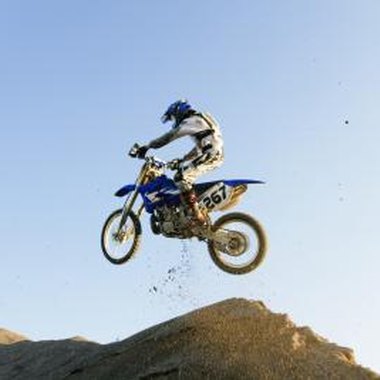 Dirt bike trails in western Tennessee run the gamut from public parks to privately owned tracks. Because dirt bikers and all-terrain vehicle (ATV) riders can share the same space, it's good to know who you'll be sharing the area with. West Tennessee, which includes the Memphis area, is a good place to find wide open spaces to put your bike through its paces, as well as connect with fellow riders who share your interests.
Thunderhill MX ATV Track
This is one of western Tennessee's newest dirt bike and ATV tracks and boasts fast straights, woops and multiple jumps. The Selmer, Tennessee, track caters to riders and non-riders alike and even features a kids track that puts an emphasis on a safe, educational experience, including hay bales to soften the blow of a fall. The owners, Dee and Rhonda Conwell, have recently expanded the track to include a neighboring hillside that gives jumpers a view of the pond.
Hidden Valley MX
Hidden Valley is one of western Tennessee's premier moto-cross racing tracks complete with restroom and shower facilities. Located in Burlison, Tennessee, Hidden Valley hosts the American Motocross Association's qualifying meets. The track has a scoring staff, scoring tower and broadcasts events over their own FM signal. Riding classes are offered for children as young as 12 years old, and the public can take advantage of all-day practice runs on the track.
Nonconnah Creek
It doesn't seem like your typical dirt bike route, but the path along the southwest portion of Tennessee into northwest Mississippi is a popular place for riders. The area is made up a 8.8 miles of biking and hiking trails praised for their mud accumulation after a good rain. But the creek is prone to flooding, so watch out for soft ground; also, you will be sharing the area with ATVs.
Natchez Trace State Park
Wildersville, Tennessee, is home to Natchez Trace State Park, which offers miles of dirt and gravel trails perfect for dirt biking. Trails are shared with horseback riders and off-road vehicles, and because the park is situated along a mountainous area, riders are exposed to conditions that range from beginning to advanced. You have your choice of day outings or overnight accommodation at campsites, cabins or the park inn.
Photo Credits
Jupiterimages/Creatas/Getty Images