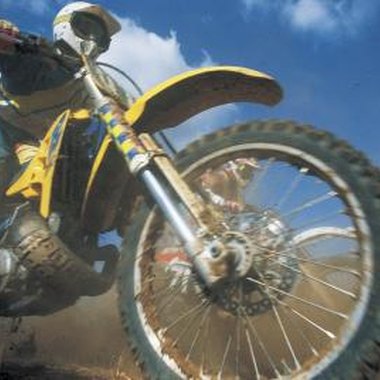 The southern California climate provides dirt bike fans with year-round riding opportunities, and the region has an extensive choice of locations to ride. These range from sand dunes in the Sonoran Desert to the trails of the San Bernardino National Forest. This provides dirt bike enthusiasts with a variety of choices to find a track or trail that suits their needs.
California State Vehicle Recreation Areas
California State Parks (ohv.parks.ca.gov) manages the Ocotillo Wells State Vehicle Recreational Area. Located close to Borrengo Springs, the 80,000-acre park offers a variety of trails and open terrain for riding dirt bikes. This includes a huge sand dune called Sand Blown Hill, and the rocky landscape of the Devil's Island area. Ocotillo Wells remains open all the time, with no fees charged to use the park. Tent camping is permitted.
U.S. Bureau of Land Management OHV Areas
The U.S. Bureau of Land Management (blm.gov) administers a number of off-highway vehicle (OHV) parks in southern California. This includes Dumont Dunes OHV Area, around 30 miles north of Baker, in San Bernardino County. This open area of desert has sand dunes of varying sizes to ride. This includes the Little Dunes area, suited to beginners, and the larger Dumont Dunes, which provide a challenging ride for more experienced dirt bikers. Riders can also find other terrain in the area, with the Sperry Wash Route offering a rocky landscape to ride on.
U.S. Forest Service Trails
The San Bernardino National Forest, managed by the U.S. Forest Service (fs.usda.gov), lies in San Bernardino and Riverside counties. The forest covers an area of more than 670,000 acres and includes four OHV trail-riding areas. These include Big Bear Lake Recreation Area, which has six dirt trails, and Lake Arrowhead/Green Valley Recreation Area, which has nine. The trails vary from less than a mile to around 10 miles in length, and include routes for all skill levels, from beginner to expert.
Private Outdoor Motocross Tracks
Dirt bike fans who enjoy track riding can visit Barona Oaks MX (baronaoaksmx.com) in Lakeside, San Diego County. This motocross park has two tracks available. The peewee track caters to beginners and has a length of 1/4 mile. The main track lies on a hillside, with this providing the 1-mile long circuit with challenging uphill and downhill sections. As of August 2011, the park has open practice sessions every Wednesday and Friday, as well as occasional Saturdays. The park offers private rental for those that want exclusive use of the track.
Photo Credits
Digital Vision./Photodisc/Getty Images