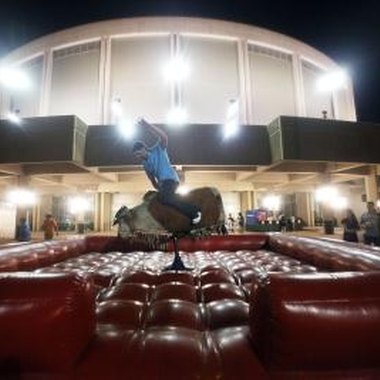 Riding the mechanical bull, first introduced into mainstream culture in the 1980 film Urban Cowboy, has continued to grow in popularity in night clubs, birthday parties and for use in practice for authentic bull-riding competitions. Chicago is home to an array of venues that offer would-be cowboys the opportunity to show off their talents on the mechanical bull. Many of these facilities offer rentals, which allow users to bring the party home.
Chicago's Mechanical Bull Company
Serving the greater Chicago area, Chicago's Mechanical Bull Company (mechanicalbullchicago.com) provides mechanical bulls that may be rented for a variety of occasions including wedding receptions, birthday parties, bachelorette parties and for those practicing to participate in bull-riding competitions. All mechanical bull rentals require a 20 amp circuit to operate, and bulls may be used indoors or out. Rentals also include padding to go underneath the bull to ensure safety.
Hogs and Honeys
In the heart of downtown Chicago, Hogs and Honeys (hogsandhoneys.com) is open to those 21 and over and offers live country music and a bar serving a variety of mixed drinks and beers on tap. Hogs and Honeys also features a mechanical bull. Hogs and Honeys is available for private party rental and customizes party packages based on requests.
Best Mechanical Bull
Serving Chicago and all areas throughout the state, Best Mechanical Bulls (bestmechanicalbull.com) offers mechanical bull rentals for practice use and private parties. All mechanical bulls are 100 percent electric and can be operated indoors or outdoors. Best Mechanical Bull offers trained mechanical bull operators to service events and all operators arrive dressed in authentic western attire. Airbags are also included to ensure safety.
Chicago Mechanical Bull Rental
In the heart of Chicago, Chicago Mechanical Bull Rental (chicagomechanicalbullrental.com) features mechanical bull rentals for corporate and private parties. Chicago Mechanical Bull Rental coordinates events to create an authentic, western style bull riding experience and provides services to events of most any size. Chicago Mechanical Bull Rental also offers instruction on riding the mechanical bull and provides padding and gear for safety.
Photo Credits
Mario Tama/Getty Images News/Getty Images