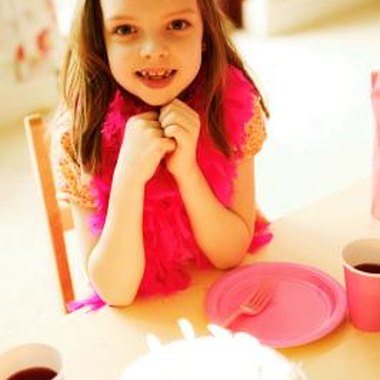 Little girls love princess parties, and Atlanta has many types of princess-themed party options available. Princess parties let children enjoy the fairytale world of princesses in their own home, rented venue or birthday party location. Each type of princess party experience provides themed decorations, story time, crafts and party favors for eight to 10 guests and is suitable for both preschool and elementary-aged children.
Tumbletots
Tumbletots of Atlanta (funttots.com) is an indoor preschool facility offering private birthday parties for kids ages 1 to 7. This party site features princess-themed birthday parties and provides access to a bouncy moonwalk, ball pit, monkey bars and climbing dome. Tumbletots provides cake, a story and table decorations to make your princess party perfect. As an added bonus, party-goers enjoy colorful tattoos and crafts.
Plumparty
Plumparty (no website; 736 Johnson Ferry Road Suite C-125 Marietta, GA 30068, (770) 970-3340) in nearby Marietta, Georgia, designs your princess party around your daughter and her special day. Plumparty features a two-hour party for up to 12 children. Plumparty provides a professional entertainer with your package, so your daughter and her friends can experience a real live princess. Other features include custom invitations, party favors, paper products, a birthday banner, balloons, streamers, music and a princess craft.
Pampered Princess
Pampered Princess Parties (pamperedprincessparties.biz) provide princess-themed parties for children in the Atlanta area. These parties come right to your home or venue and provide personalized photo invitations sent to the Walgreen's of your choice. Each child attending the party will receive a mini-makeover with age-appropriate makeup and princess dress-up clothing. One of the highlights of a Pampered Princess Party is the princess fashion show. A princess hostess helps make the day complete. Other items included in this party package designed for 3- to 7-year-olds are a story, music, games, crafts and party favors. The package price includes the first eight guests with a small charge for each additional party-goer.
My Fairy Godmother
My Fairy Godmother Parties (myfairygodmotherparties.com) of Atlanta bring all the fun of a personal fairy godmother right to your door. My Fairy Godmother handles all the entertainment throughout the entire party. From the mystical arrival of My Fairy Godmother to princess etiquette lessons, the Gem party gives your princess a magical day with up to ten of her friends (extra friends are an extra charge). The Castle package adds to the fun with personalized invitations sent for you, fairy tea from the fairy tea pot, linen napkins and cupcakes or cookies served from a special tower. Either of these princess packages are designed to make your daughter's birthday party something to remember.
Photo Credits
Jupiterimages/Photos.com/Getty Images