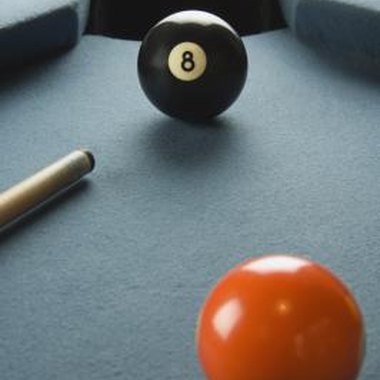 There are no venues in Alabaster, Alabama that have pool tables for public use. Billiards locations are available, however, up to 30 minutes away in the cities of Hoover and Birmingham. Venues differ according to entertainment offerings but amateur and professional players alike can find a place suited to their needs.
Bumpers Billiards
Bumpers Billiards' (bumpersbilliards.com) location in Hoover came under new management in May 2011 and is open for business seven days a week. Bumpers Billiards is the site of several competitions, including the 9-Ball State Championship and the 9-Ball Handicap tournament. Domestic and imported beer are available to consumers, and management also features drink specials and unique events in celebration of various holidays. For example, on Memorial Day 2011 employees were allowed to play for free.
Bumper Nets
Bumper Nets (bumpernets.com), in Birmingham's Riverchase Galleria Mall, is not a pool hall but a retail store that sells gaming supplies. As of 2011, however, pool players are allowed to use the facility's tables, balls and cue sticks on Thursday nights. Events cater to advanced players because registration fees must be paid to reserve playing times. Eight- and 9-ball game choices allow players to compete for cash winnings. Bumper Nets guests can also watch pinball and table tennis competitions.
The Back Nine Bar
The Back Nine Bar (thebackninebar.com) in Birmingham is a full entertainment venue. Its game room has three pool tables, bowling alleys, a golf course and video games. Players can shoot balls while listening to live bands on the room's stage. A full food menu is available, offering traditional American fare, including burgers, nachos and hot wings. Players do not have to rush out after they are done playing either. Sporting events are shown on big-screen televisions viewable from the bar.
PCs Hawg Corral
PCs Hawg Corral in Birmingham (hawgcorralbar.com) is a biker bar and a lot more. Pool tables are open to the general public on Thursdays. As of summer 2011, the bar hosts all-night league tournaments for the American Pool Association from Mondays through Wednesdays. The decor features muted, earth-tone colors and contemporary dimmed lighting fixtures. Singers and instrument players are invited to join in karaoke and Thursday night open-mic sessions. Music spectators can enjoy live bands inside and on the outdoor patio.
Photo Credits
Thinkstock Images/Comstock/Getty Images