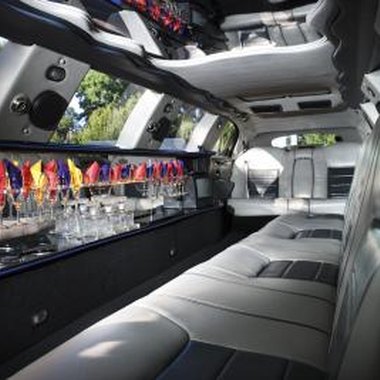 In past years it was common for engaged couples to kiss one another goodbye before being whisked away by their respective bridal parties for a last night out as single people without one another; today, it's not uncommon to see couples being whisked away together for a joint party. Joint bachelor/bachelorette parties are often referred to as Jack and Jill parties. New York City provides a number of places where you can go with your guy and all of your friends to celebrate your impending nuptials in style.
Stir
Stir is a nightclub that caters to bachelors and bachelorettes -- with separate or joint parties(stirnyc.com). The club provides packages for a flat fee as well as some that cost a set amount per person. Each package offers liquor service, a champagne toast and a chocolate covered strawberry platter; a full menu is offered for an additional $5 per person. Each night Stir offers a DJ and a club atmosphere full of other bachelor and bachelorette parties.
Pulse
Pulse is a karaoke lounge in New York City located in Times Square (pulsekaraoke.com). The club features private VIP lounges and suites for bachelor parties, bachelorette parties and Jack and Jill parties. The packages for a private lounge are priced per person and include an array of amenities such as unlimited drinks for two hours, a complimentary bottle of champagne for every six guests and appetizers. The more options you want, including additional menu options and premium liquors, the more you pay per person. All packages include unlimited karaoke and dancing is always an option.
Pacha
Located near the Hell's Kitchen district, Pacha is a four-story nightclub featuring a different mini-club on each level (pachanyc.com). Each level features a different club theme and VIP package for your party. Your Jack and Jill guests receive free admission into the club before midnight, a free shot upon arrival and your private VIP lounge is stocked with a complimentary bottle of vodka. You also receive 10 percent off the total cost of your bill. With your VIP package you have the freedom to access any floor of the club and the bar. Dancing, live entertainment and drinks are provided nightly.
TOUCH
For a couple who prefers to have a more elegant Jack and Jill party, TOUCH is the club for them (touchnewyorkcity). Located on 52nd Street in Manhattan, TOUCH features more than 15,000 sq. ft. of private lounges, full service concierges, two full bars and two service bars and a sit down dinner for up to 125 guests. Dance space and a sound system are available to entertain your guests in each private lounge, as well as the main areas of the space. Book your Jack and Jill party by calling TOUCH and reserving a private lounge or VIP room.
Photo Credits
Thinkstock/Comstock/Getty Images