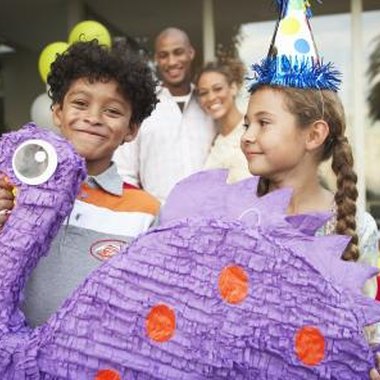 Parents in Los Angeles have a wide variety of choices of venues for their daughter's 10th birthday party. Los Angeles offers party spots that allow girls to engage in athletics, express their creativity or simply relax in a party atmosphere with a group of friends. Parents will find a wide range of options to orchestrate a birthday party which meet various tastes, budgets and, of course, the birthday girl's expectations.
Skating
Take the kids to a skating venue for a great birthday celebration of fun and excitement. The AMF World on Wheels (amfworldonwheels.com) on Venice Boulevard celebrates birthday parties with admission to the rink for all guests and access to the rink's arcade of video games. The Los Angeles Department of Parks and Recreation operates 19 skate parks throughout Los Angeles. Options include the El Sereno Center on Klamath Place, the Stoner Skate Park on Stoner Avenue and the Wilmington Skate Park in the Harbor Section of Los Angeles. Groups can head to a nearby park or eatery for post-skating refreshments.
Pool Party
Los Angeles's balmy weather allows locals to plan indoor and outdoor pool parties during most of the year. The West Valley YMCA (ymcala.org/westvalley) allows private groups to rent its indoor pool for a birthday pool party from 4 p.m. to 5 p.m. on Saturdays. The Waterworks Aquatics pool (waterworksswim.com) at the Beverly Hills Community Center invites families to schedule a birthday party at the indoor pool. Los Angeles parks (laparks.org) has lakes where parents can take a group to swim and picnic, including Lake Balboa and the Hansen Dam Aquatic Center.
Museum Party
Infuse education and culture into a girl's 10th birthday by holding her birthday party at a Los Angeles Museum. The Natural History Museum (nhm.org) parties include a full day's admission for all guests, a party area and a science-themed art activity. La Habra Children's Museum (lahabracity.com) provides a venue for kids to learn about art history, artists and art techniques through interactive exhibits. Parents arrange a birthday party on a Saturday or Sunday and the museum provides admission for all guests, a party room and, with a deluxe party package, all refreshments.
Art Party
Take the party to an art studio where the party guests work together on art projects before sitting down to the birthday refreshments. The Children's Art Studio (thechildrensartstudio.com) on Wilshire Boulevard in Los Angeles invites party groups to use the Children's Art Studio to create an art project. The party uses the studio for two hours, after which the kids sit down to enjoy refreshments. The Brentwood Art Center (brentwoodart.com) in the Brentwood district of Los Angeles offers private art parties which allow each guest to produce her own individual product. Parties take place on Saturday afternoons and the birthday girl's parents bring the refreshments.
Photo Credits
Siri Stafford/Stockbyte/Getty Images